Unleash the Clean: The Best Mops for Dog Hair To Conquer Any Floor
Is your furry friend prone to shedding? In this article, we'll take a look at some of the best mops for dog hair and what makes them so effective.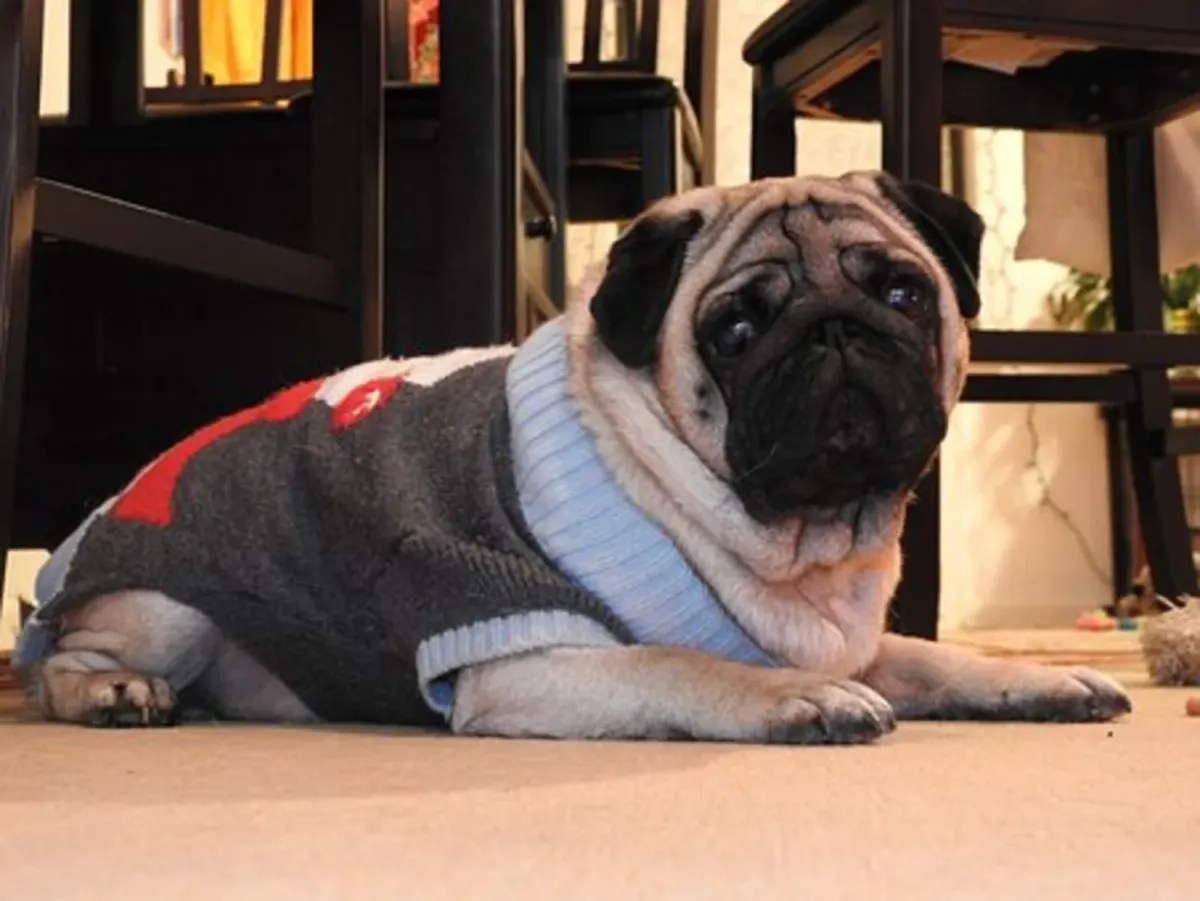 Owning a pet and companion can be one of the greatest joys in life, but it comes with its own set of unique challenges. One of those is taking care of pet hair - sometimes it's everywhere! The best solution to this problem is to get the best mop for the job.
From budget-friendly options to hi-tech devices, there is an ideal eco-friendly mop designed specifically to quickly and effectively collect pet hair from floors without leaving any residue behind. With the right mop, you can keep the house clean, bright, and your furry friend looking great.
NEED A QUICK SOLUTION? TAP THE LINK BELOW!
---
To make it possible for us to do what WE LOVE, so you can easily get the items that YOU LOVE, we may get a small commission if you click one of the affiliate links on our site, AND it won't cost you an extra penny! We help you and you help us, can I get a heck yeah?
Psst! Click here to read a special message from the Authors
We love simplifying your shopping experience! In fact, it's so much fun for us (and satisfying) that we can't stop! We enjoy providing you with the best product options to make your choice an easy one! What can we say… we love doing research! Go ahead, call us nerds, geeks, Trekkies (ooh, Trekkie has a nice ring to it) but we're doing our passion - and that's good news for you! So we won't waste your time (or money for that matter) giving you gobs of needless info or lists and lists of products. Nope! we'll keep it to the most helpful information and simplify it to the top 3-5 best options. After all, we have to stay true to our name… this is ChucksBest - Shopping Made Easy.
HOW WE DO WHAT WE DO
Shopping Made Easy
How We Choose The Top Mops For Cleaning Up Dog Hair
At ChucksBest.com we understand the struggles of cleaning up after pets. It can be a daunting task, especially when it comes to picking up dog hair from floors and carpets. That's why we have come up with a guide to help you choose the best mop for dog hair.
But with so many options available, how do you choose the best one for you? In this article, we'll go over the process we took to choose the best mop, including researching and comparing brands and products, reading customer reviews, identifying pros and cons, and more.
Research and compare brands and products
The first step we took was to research and compare the top brands and products on the market. We looked at various mop types such as microfiber mops, steam mops, and spray mops, and yes we even cheated and looked at electric mop and vacuum options. We considered factors like durability, efficiency, and ease of use. We also looked at the specific features of each mop, such as the mop head size and shape, the material of the mop head, and the type of handle.
Read customer reviews
Next, we read through customer reviews to get a better idea of how well each mop performed in real-life situations. We looked for reviews that specifically mentioned dog hair, and we paid attention to the overall satisfaction of customers with the product. We also looked for any common complaints or issues that customers had with each mop.
Identify pros and cons
After researching and reading customer reviews, we identified the pros and cons of each mop. We looked at factors such as price, efficiency, ease of use, and durability, and we weighed the benefits and drawbacks of each mop. We also considered any specific features or capabilities that might make one mop more suitable for certain types of flooring or household situations.
Consider additional factors
Finally, we considered any additional factors that might influence our decision. For example, we looked at the warranty and customer service provided by each brand, as well as the availability of replacement mop heads and other accessories. We also considered factors such as the size and weight of the mop, as well as any specific cleaning instructions or recommendations.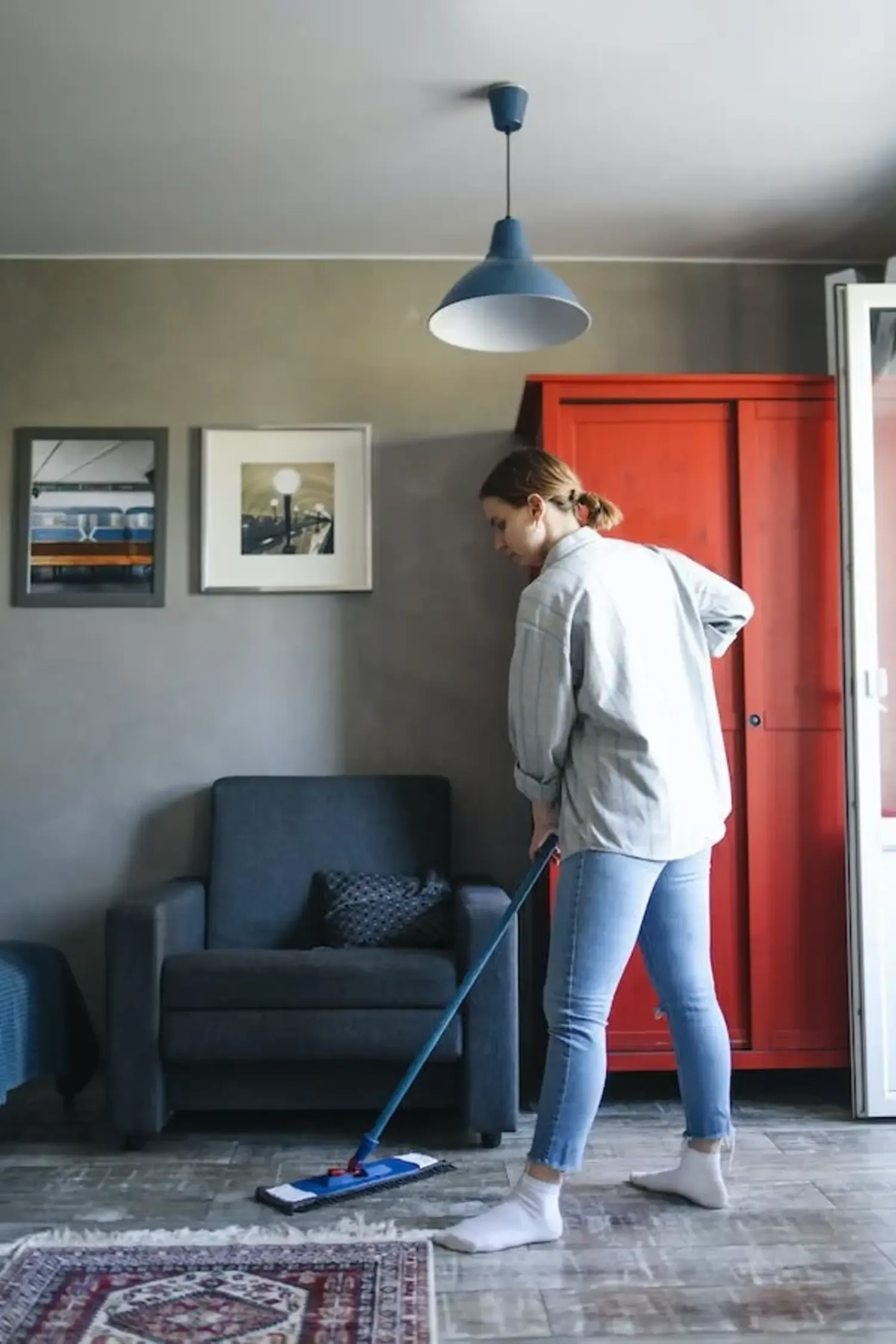 ---
BUYERS GUIDE
To help you make the a more educated purchase decision today!
For Choosing The Best Mop For Dog Hair
Dog hair can be a daunting task to clean, especially if you have multiple furry pets at home. Pet dander and hair can easily accumulate on your floors, carpets, and furniture. However, with the right mop, this task can become much more manageable. Here is a buyer's guide for choosing the best mop for dog hair for you.
What Makes A Mop Designed For Dog Hair, Different?
A mop specifically made to clean up dog hair is a great tool to have in any household with furry pets. Some are specially designed to remove pet hair from hardwood floors, furniture, and even carpets without the use of harsh chemicals or vacuums.
They attract and pick up fur and pet dander so that you can easily shake it away. Plus, they allow more thorough cleanings as it cleans down further into carpet fibers than other methods. It's an efficient way to get rid of unwanted pet fur around your house and make sure your flooring looks almost new again (ok, that might be stretching it. But hey, wishful thinking never hurts).
What You Should Look For
Type of Mop
There are two types of mops, wet and dry. Wet mops are ideal for cleaning dirty wooden floors, while dry mops are best for sweeping up hair and dust. For dog hair, a dry mop, such as a turbo microfiber mop, is the best mop option as it traps the fur and dander with ease.
Material
The material of the mop is also important. A turbo microfiber mop is an excellent option for trapping pet hair, and it's easy to wash and reuse. Avoid using microfiber mops with feather or wool materials, as they can spread pet hair instead of collecting it.
Size
The size of the mop head also matters. Obviously a larger mop head will cover more area and can make the cleaning process quicker. However, a smaller head can be more effective in hard-to-reach areas, such as corners.
Handle
A comfortable handle is essential when cleaning for extended periods. Look for a mop with a comfortable grip, which will reduce fatigue and make cleaning more manageable.
Versatility
Some mops are designed specifically for pet hair, while others can be used for multiple cleaning purposes. Consider a versatile mop that can be used on various surfaces, including hardwood floors, tiles, and carpets.
Ease of Use
The mop's ease of use is also a critical factor. Choose a mop that is easy to assemble, disassemble, and clean. A mop with a removable and washable head will save you time and money in the long run.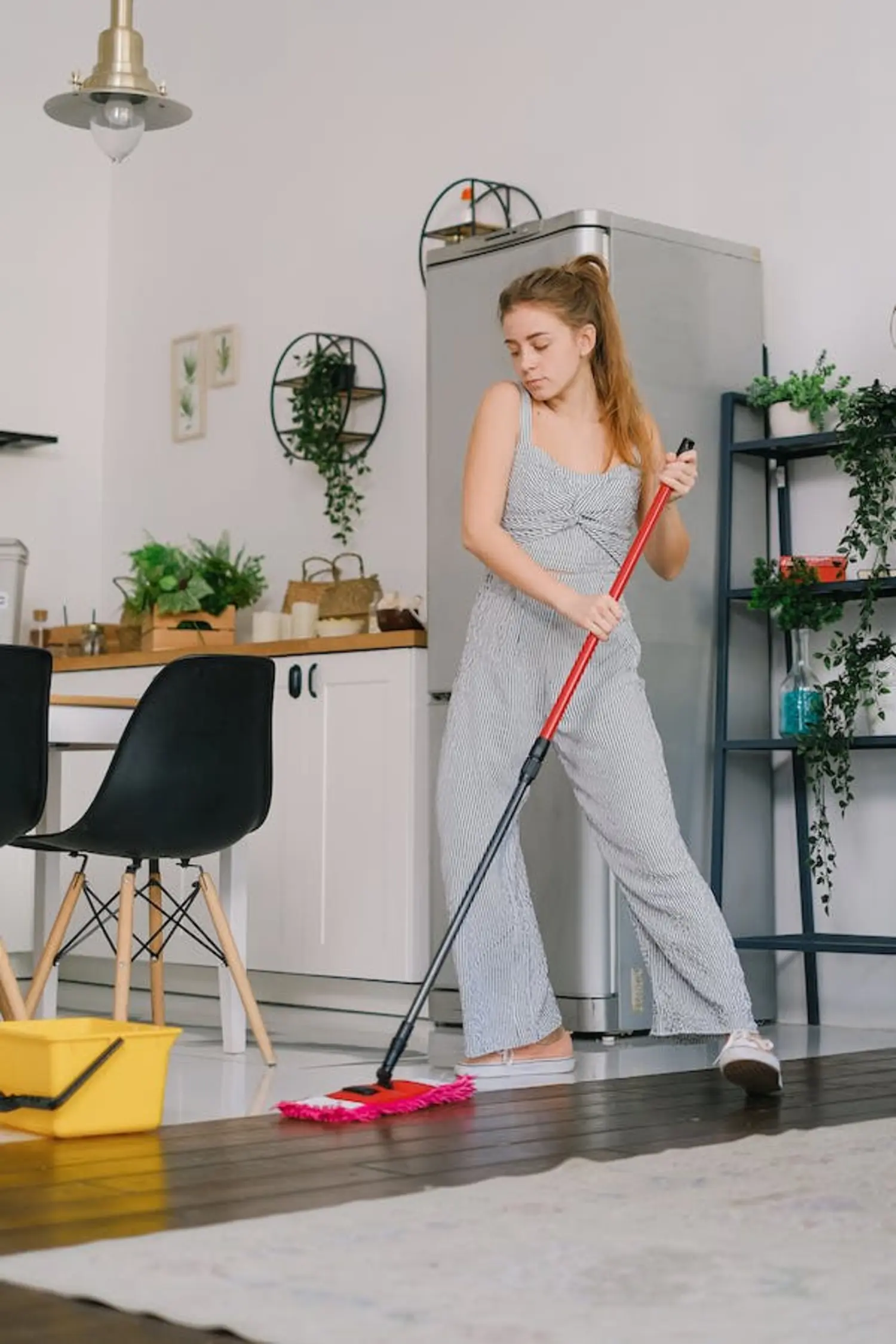 What Are the Benefits? Mops Designed For Dog Hair VS regular Mops
When it comes to maintaining the cleanliness of your furry friend's abode (you know, the one that they think is theirs but is really yours? Lol), the benefits of moping the floor cannot be overstated. Here are some of the reasons why:
Removes Loose Hair
Dogs tend to shed a lot of hair, especially during spring and fall in preparation for the changing seasons. While brushing helps to remove some of their loose hair, mopping takes it to the next level by picking up hair that your eyes cannot see. This not only keeps your home clean, but also reduces the chances of your dog licking up the loose hair from the floor (if they find food there) which can be dangerous.
Hygienic
Mopping your dog's hair helps to reduce bacteria and other germs around the house. Not only does this make your home smell more fresh, but it also enhances the overall hygiene of your home. This is especially beneficial if you have young children, elderly people, or people with weak immune systems living with you.
Reduces Allergens
Dogs' hair can trigger allergic reactions, especially in people who have asthma or other respiratory conditions. Mopping your home regularly can help to reduce the number of allergens present, easing the symptoms of people with these conditions.
Saves Time
Mopping is a faster and more efficient way of cleaning your home than vacuuming or using a broom. This is because it picks up all the dirt, dog hair, and other debris in one sweep, without scattering it around the house or making multiple passes.
Keeps Your Furniture and Bedding Clean
Dogs tend to leave hair all over your furniture and bedding, which can be difficult to remove. By mopping your floors regularly, you reduce the amount of hair that makes its way onto your furniture, making it easier to clean and maintain.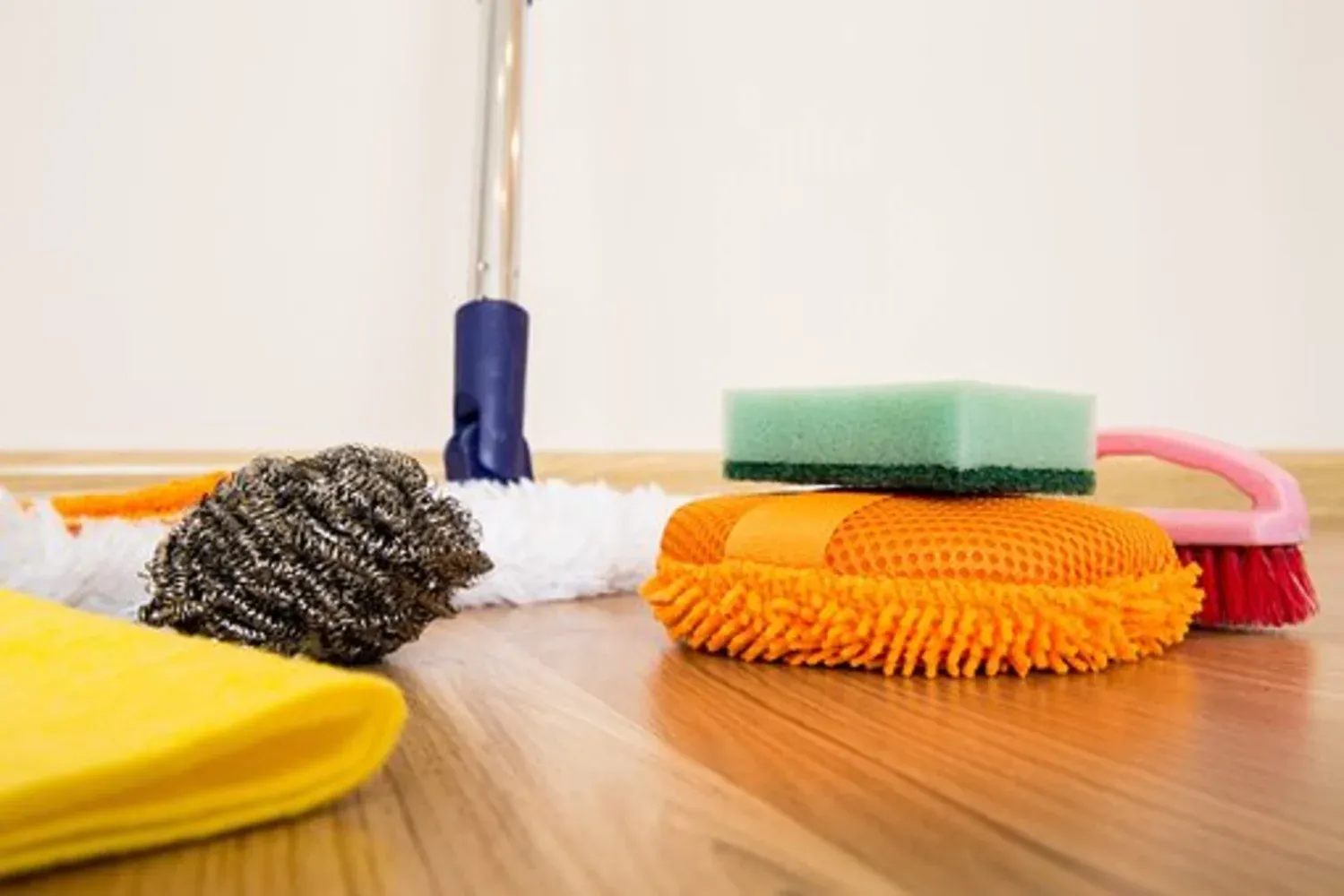 Okay, Now Let's Summarize. How Do You Know Which Mop Is Right For You?
Material
The material of the mop head is a critical factor in how well it can clean up dog hair. Look for mop heads made of microfiber cloth or other high-quality synthetic materials that can trap pet hair without spreading it around your floors. Avoid using traditional cotton or string mops, as they tend to push the hair around rather than pick it up.
Size and shape
When selecting a mop, consider both the size and shape of the mop head. For larger areas, a wider and more rectangular head may be more efficient, while a smaller and more circular mop may be better for tight spaces. Additionally, a mop head with a swiveling feature can make it easier to maneuver around corners and obstacles.
Wet or dry mop
Another factor to consider is whether you should use a wet or dry mop. Dry mops are better for picking up loose pet hair on hard floors, while wet mops can be more effective at removing stains and spills. Some cleaning experts recommend using both a dry and wet mop in sequence for the best results.
Additional features
Lastly, a few additional features can make a good mop for dog hair even more effective. Look for mops with extra attachments or extendable handles to help you clean hard-to-reach areas. Some mops that are for dogs only, may also include anti-bacterial materials, which can help prevent the spread of germs and odors.
By keeping these factors in mind, you can select the mop that will best meet your needs and help you maintain a clean and tidy home for both you and your furry friend.
RECOMMENDATIONS
💡
You Are About To Discover ChucksChoice For The Best Mop For Dog Hair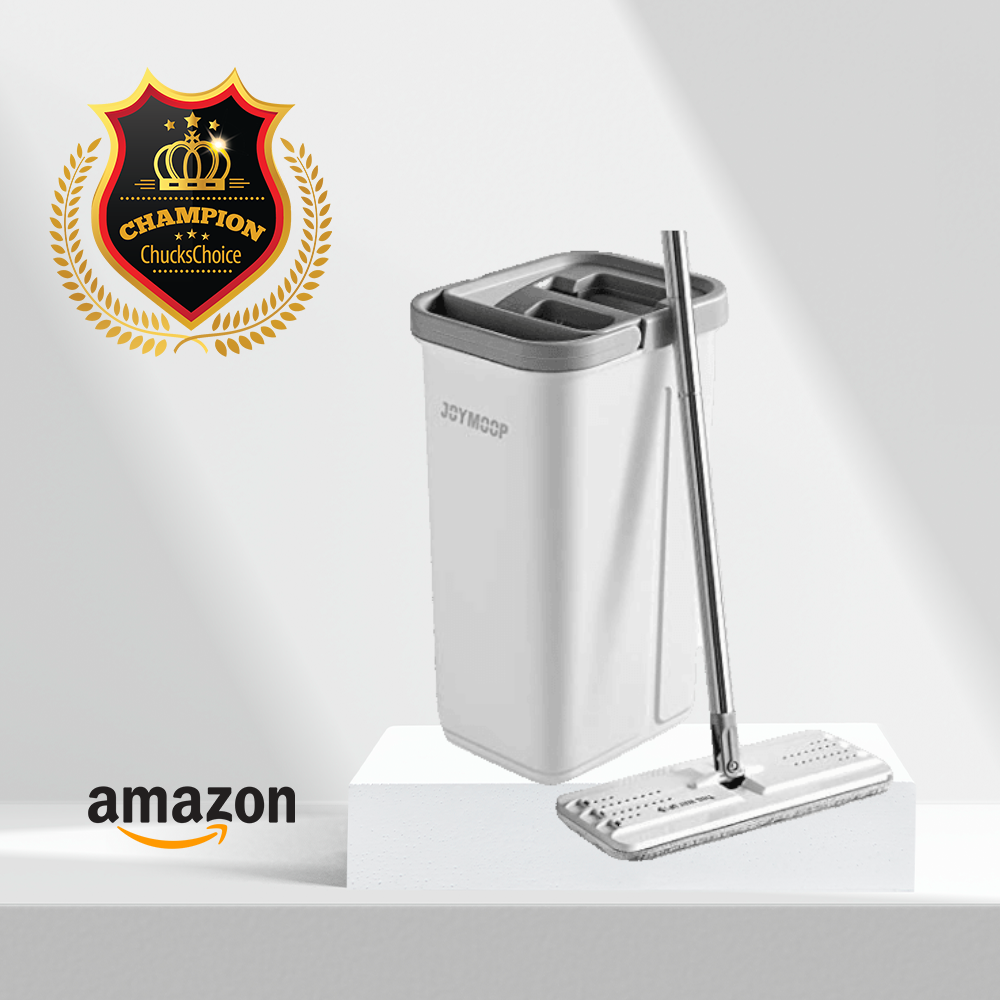 ChucksChoice - The Best of Best
JOYMOOP Mop and Bucket with Wringer Set
CHECK AMAZON PRICE
The JOYMOOP Mop and Bucket with Wringer Set is a game-changer when it comes to household cleaning tools. This innovative flat floor mop and bucket set is designed to make your cleaning tasks more efficient and enjoyable than ever before.
One of the standout features of the JOYMOOP mop and bucket set is its versatility. It can be used for both wet and dry cleaning, making it a must-have for any household. Whether you need to pick up dog hair, clean up spills, mop the floors, or dust off surfaces, this mop set has got you covered.
The set includes 3 microfiber pads that are highly absorbent and effective at removing dirt and grime from all types of surfaces. Whether you have hardwood, laminate, tile, or any other type of flooring, the JOYMOOP mop and bucket set will leave your floors looking clean and shiny.
Another great feature of the JOYMOOP mop set is its easy-to-use wringer. With a simple press of the foot pedal, you can quickly and easily wring out excess water from the mop head. This makes it easy to control the amount of moisture on the mop head and ensures that your floors dry quickly and without streaks.
The ergonomic design of the JOYMOOP mop set is also worth mentioning. The lightweight aluminum handle is adjustable and easy to grip, making it comfortable to use for extended periods of time. Plus, the mop head swivels 360 degrees, allowing you to easily maneuver around furniture and other obstacles.
What We Like:
Versatile for wet and dry cleaning
Includes 3 highly absorbent microfiber pads
Easy-to-use wringer for controlled moisture
Lightweight and adjustable aluminum handle
360-degree swiveling mop head for easy maneuverability
What We Should Know:
Suitable for hardwood, laminate, tile, and other surfaces
Ergonomic design for comfortable use
Helps make cleaning tasks more efficient and enjoyable
Easy to assemble and use
Leaves floors looking clean and shiny
---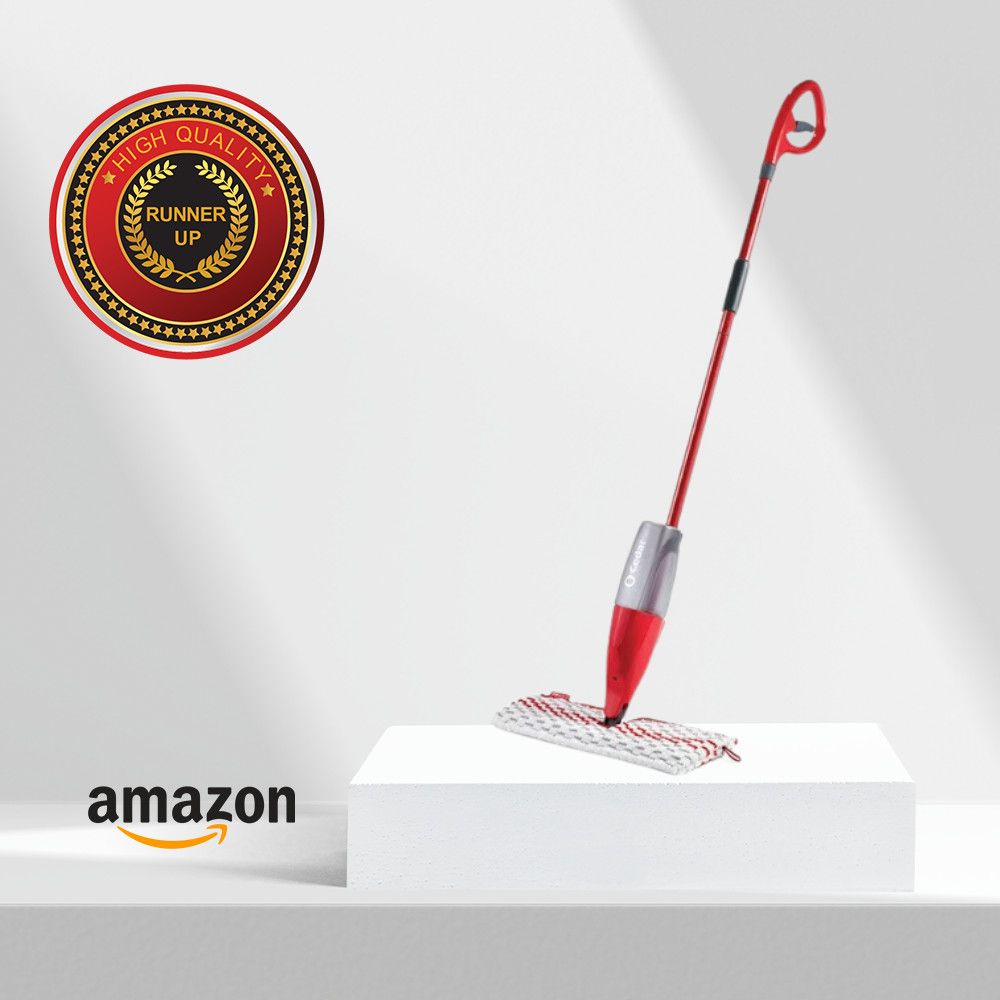 RUNNER UP
O-Cedar ProMist MAX Spray Mop (with 2 Extra Refills)
CHECK AMAZON PRICE
Searching for a top-notch mop that can assist you with cleaning your floors easily? Look no further than the O-Cedar ProMist MAX SPray Mop! This strong cleaning apparatus is loaded with highlights that make it simple and helpful to utilize, so you can get your floors shining clean in the blink of an eye.
One of the vital elements of the O-Cedar ProMist MAX Splash Mop is its strong shower capability. With the dash of a button, you can deliver a fine fog of cleaning arrangement onto your floors, guaranteeing that every last trace of the surface is totally cleaned. The mop head is likewise intended to be additional spongy, so it can get soil and garbage rapidly and without any problem.
But of course, the sponge works great as a dry mop as well to help in capturing all those loose pesky pet hairs.
One more incredible element of the O-Cedar ProMist MAX Splash Mop is its flexible handle. This permits you to tweak the length of the mop's ability to suit your level and cleaning needs, so you can easily clean your floors without stooping or twisting around. The mop bucket likewise includes an adaptable head that can turn 360 degrees, so you can undoubtedly get to all those hard to reach areas.
Perhaps the best thing about the O-Cedar ProMist MAX Splash Mop is its sturdiness. Produced using top-notch materials, this mop is intended to keep going for a really long time, even with continuous use. What's more, when it comes time to replace the mop head, the swap is fast and simple - essentially slide the old head off and add another one.
The O-Cedar ProMist MAX Splash Mop is a phenomenal cleaning device that makes certain to make your life more straightforward. Whether you're hoping to clean hardwood floors, or tile floors, or overlay, this mop is capable.
What we like:
Powerful spray function for thorough cleaning
Extra absorbent mop head for quick and easy dirt pickup
Adjustable handle for personalized comfort and ease of use
360-degree swivel steering head for access to hard-to-reach areas
Durable materials for long-lasting use
Easy-to-replace mop head for convenience
Comes with two extra refills for added value
What you should know:
Designed for use on hardwood floors, tile, and laminate
Cleaning solution not included must be purchased separately
May not be suitable for use on delicate surfaces or carpeted floors
Assembly is required before use, but instructions are included
---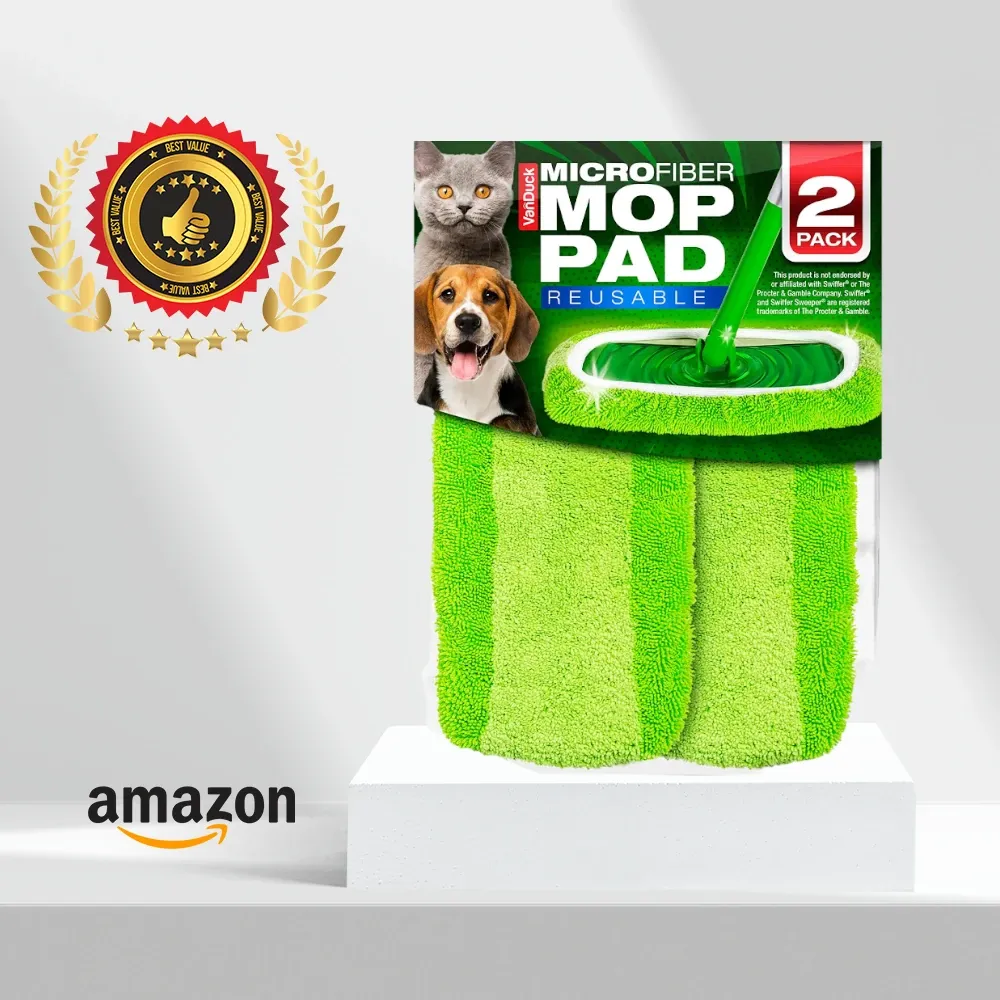 VanDuck Reusable Mop Pads (compatable with Swiffer Sweeper)
CHECK AMAZON PRICE
If you're looking for a high-quality and eco-friendly alternative to disposable mop pads, VanDuck's Reusable Mop Pads Compatible with Swiffer Sweeper Mops are an excellent choice. These washable microfiber mop pads are perfect for wet and dry use, making them versatile enough to handle any cleaning job.
The microfiber material is super absorbent, picking up even the smallest particles of dirt and grime. The pads are also incredibly durable, able to withstand multiple uses and washings without losing their effectiveness. Users are particularly impressed with how well these pads performed on hardwood floors.
The first thing that struck us about the VanDuck mop pads was their high-quality construction. Made from premium microfiber material, these pads are incredibly soft and gentle on floors, yet durable. Unlike traditional disposable mop pads, which are wasteful and often fall apart after just one use, the VanDuck pads are built to last, saving you time and money in the long run.
The real magic of these mop pads lies in their performance. Users are amazed at how effectively they cleaned and pick up. The microfiber material easily picks up dirt, dust, hair, and debris, leaving floors sparkling clean and streak-free. And as mentioned, because they're reusable, you can easily switch between wet and dry mopping without having to constantly switch out pads, making cleaning a breeze.
But perhaps the best part of the VanDuck mop pads is their versatility. They can be used on any type of flooring, from hardwood and tile to laminate and vinyl. And because they're machine washable, they're easy to clean and maintain, ensuring that they're always ready to tackle your toughest cleaning jobs.
What We Like
Eco-friendly alternative to disposable mop pads
Washable microfiber material is super absorbent and durable
Perfect for wet and dry use, making them versatile for any cleaning job
Compatible with Swiffer Sweeper Mop, making them a sustainable option without needing to purchase a new cleaning system
Attach easily and securely to the mop head, so no worry of slipping off mid-clean
Effective on hardwood floors, leaving them streak-free and shining like new
Great value for the price
What You Should Know:
These are reusable mop pads, so they will require washing after use
Although compatible with Swiffer Sweeper Mop, it may not fit other mop systems
May require some effort to remove tough stains or dirt from the pads during the washing
---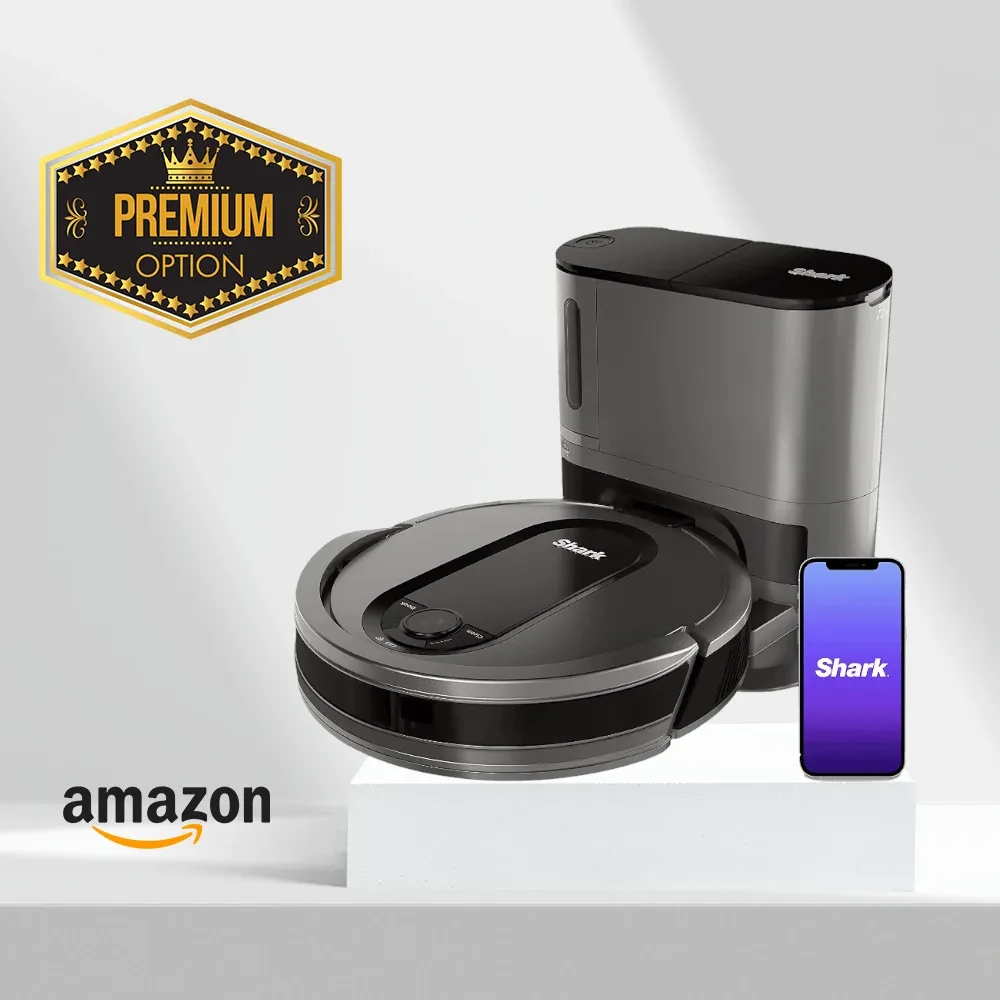 Shark EZ Robot Mop with Self-Empty Base
CHECK AMAZON PRICE
Are you sick of continually vacuuming your home to remove hair and dust? Then the Shark AV911S Easy Robot Vacuum is the ultimate option. This cutting-edge Hoover is made to simplify your life and keep your house tidy.
Before you say, "but that's not a mop!".... let us just assure you that, we did notice (wink). The beauty of the Shark is that if you don't mine paying a premium price, it will do the work for you, very well we might add.
The vacuum cleaner self-emptying base is one of its unique features. The vacuum will take care of emptying all the hair and rubbish for you, so no more stooping! You won't have to worry about emptying the base frequently because it can keep up to 30 days' worth of dust and debris.
Also, the Shark AV911S Easy Robot Vacuum is really effective. No area is ignored thanks to its row-by-row cleaning mechanism, and the vacuum's strong suction is ideal for collecting pet hair and other debris.
What we like:
Self-emptying base
Efficient row-by-row cleaning system
Powerful suction for hair and debris
Bagless design
Compatible with Alexa and Wi-Fi for easy control
Sleek and compact design
What You Should Know:
Requires initial setup and connection to Wi-Fi for app control
May not work well on high-pile carpets or rugs
Replacement filters and brushes may need to be purchased over time
The self-emptying base may be noisy during the operation
The vacuum can only clean one level of the home at a time and may need to be manually moved to a different floor.
---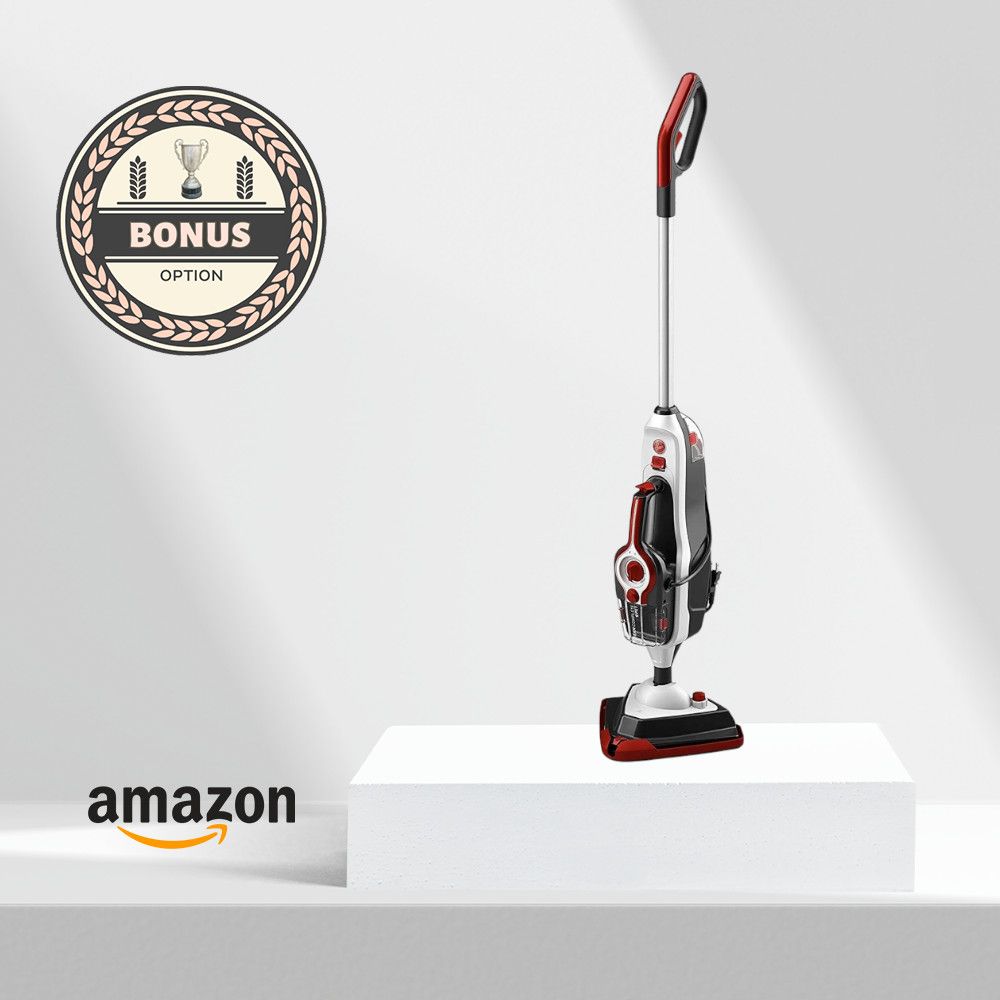 Hoover Complete Pet Steam Mop with Removable Handheld Steamer
CHECK AMAZON PRICE
As a pet owner, keeping a clean and hygienic home can be quite challenging. That's why we were thrilled to discover the Hoover Complete Pet Steam Mop with Removable Handheld Steamer. And let me tell you, it does not disappoint!
The first thing that caught our eye was its sleek white design. It looks modern and stylish, which is a refreshing change from the standard bulky cleaning tools. The mop itself measures 11 IN x 8.75 IN x 25 IN, making it compact and easy to store.
The Hoover Complete Pet Steam Mop is not just a mop, but a versatile cleaning tool that can tackle multiple surfaces. It works brilliantly on both tile and hardwood floors, effortlessly removing dirt, grime, and pet hair. The steam is powerful and consistent, and I love that it sanitizes as it cleans, eliminating 99.9% of bacteria and germs.
This product comes with two washable microfiber pads, which are thick and heavy-duty and can be reused several times. It's important to note that the frequency of washing the reusable microfiber mop pads depends on the amount of dirt and grime being picked up during cleaning. If you're cleaning a heavily soiled area, you may need to wash the pads more frequently than if you're cleaning a lightly soiled area.
As mentioned, one of the best features of this mop is its removable handheld steamer. It makes cleaning tight spaces, such as corners, crevices, and upholstery, a breeze. The steamer heats up quickly, and the attachments are easy to switch out, so you can clean a variety of surfaces with ease.
Another highlight of this mop is its ability to tackle pet messes. As a pet owner, accidents happen, and the Hoover Complete Pet Steam Mop is a lifesaver in those situations. The mop pad is specially designed to pick up pet hair, and the steam quickly loosens and dissolves any messes, leaving the area clean and fresh-smelling.
We highly recommend the Hoover Complete Pet Steam Mop with Removable Handheld Steamer. It's a versatile and efficient cleaning tool that has made users life as pet owners so much easier.
What We Like:
Sleek and modern design
Versatile cleaning tool for multiple surfaces
Powerful and consistent steam that sanitizes as it cleans
Removable handheld steamer for cleaning tight spaces
Specially designed mop pad for picking up pet hair
Efficient in tackling pet messes
Leaves surface clean and fresh-smelling
What You Should Know:
The mop is compact and easy to store, but may not cover larger areas as quickly as a traditional mop
The water tank may need to be refilled frequently depending on the size of the area being cleaned
The steam can be quite hot, so it's important to follow safety precautions and not touch the steam directly
The mop pad may need to be replaced after several uses depending on the amount of dirt and grime being picked up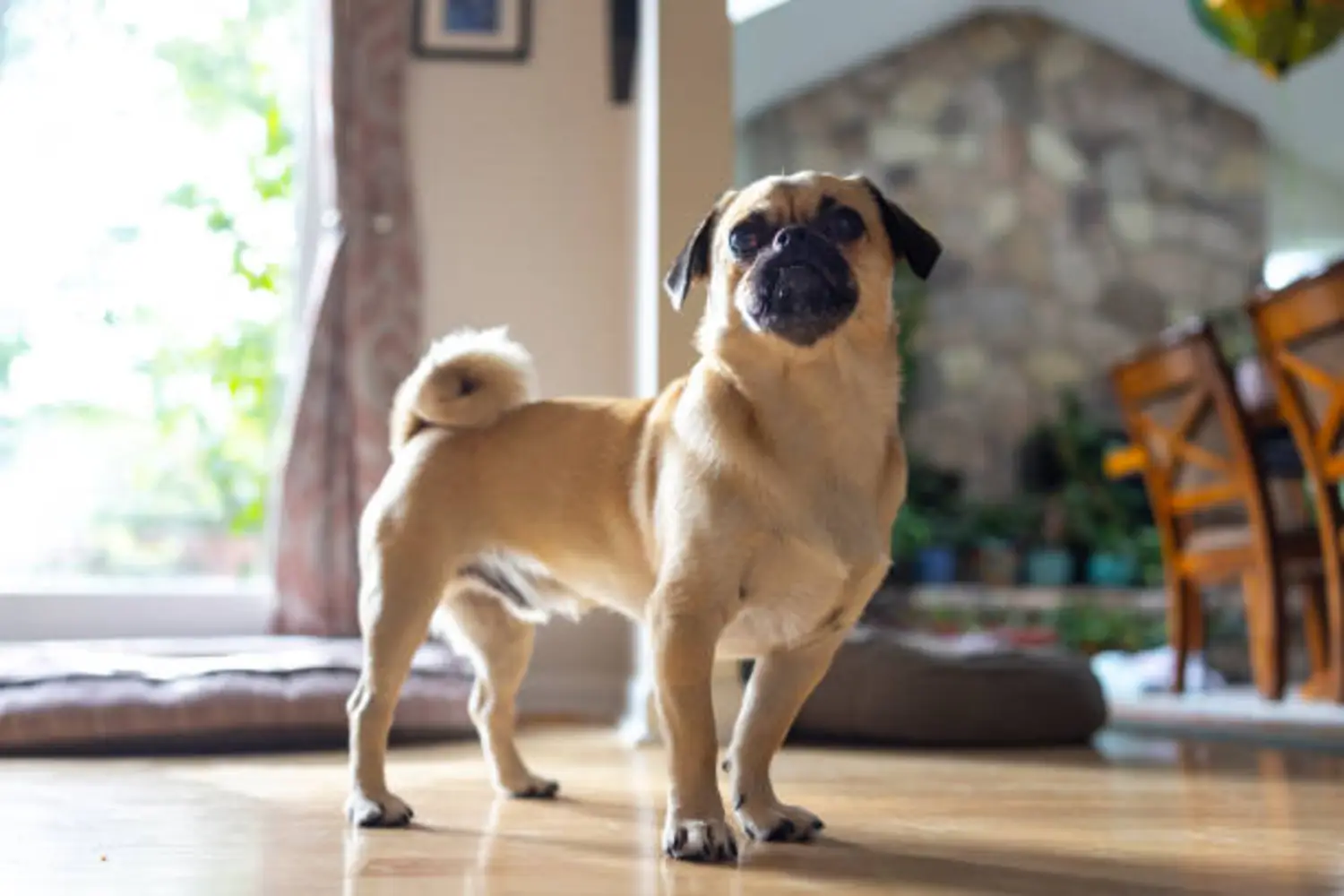 ---
FREQUENTLY ASKED QUESTIONS
The Best Answers For The Right Questions
Q. Do you need to replace the mop heads?
A: Yes, you need to replace mop heads periodically. Over time, mop heads can become worn and dirty, which can reduce their effectiveness in cleaning floors. Regular replacement of mop heads (whether using reusable or disposable pads) can help ensure that your floors are cleaned thoroughly and effectively.
Q: How is a mop for dog hair different from regular mops?
A: A mop designed for dog hair has special microfibers that are specifically designed to attract and lift pet hair from floors and other surfaces. Regular mops may not have the same level of effectiveness when it comes to pet hair removal.
Q: Is a mop made for pet hair safe to use on all types of flooring?
A: Yes, including hardwood, tile, and laminate. It is gentle on floors but effective at removing pet hair and other debris.
Q: Can a mop specifically designed to capture pet hair be used on furniture and other surfaces?
A: Yes, furniture, stairs, and other surfaces. It is versatile and can be used to clean various areas of your home where pet hair tends to gather.
Q: How often should I mop for dog hair?
A: The frequency of use depends on how much your dog sheds and how often you clean your home as dog owner. If your dog sheds heavily, it is recommended mop at least once a day to keep your home smelling fresh and free from other debris.
Q: How do I clean my reusable mop pad after use?
A: To clean the mop head pad, simply rinse the bristles under running water or machine wash and then let it air dry. Avoid using any harsh chemicals or detergents as they may damage the bristles or the mop pad itself.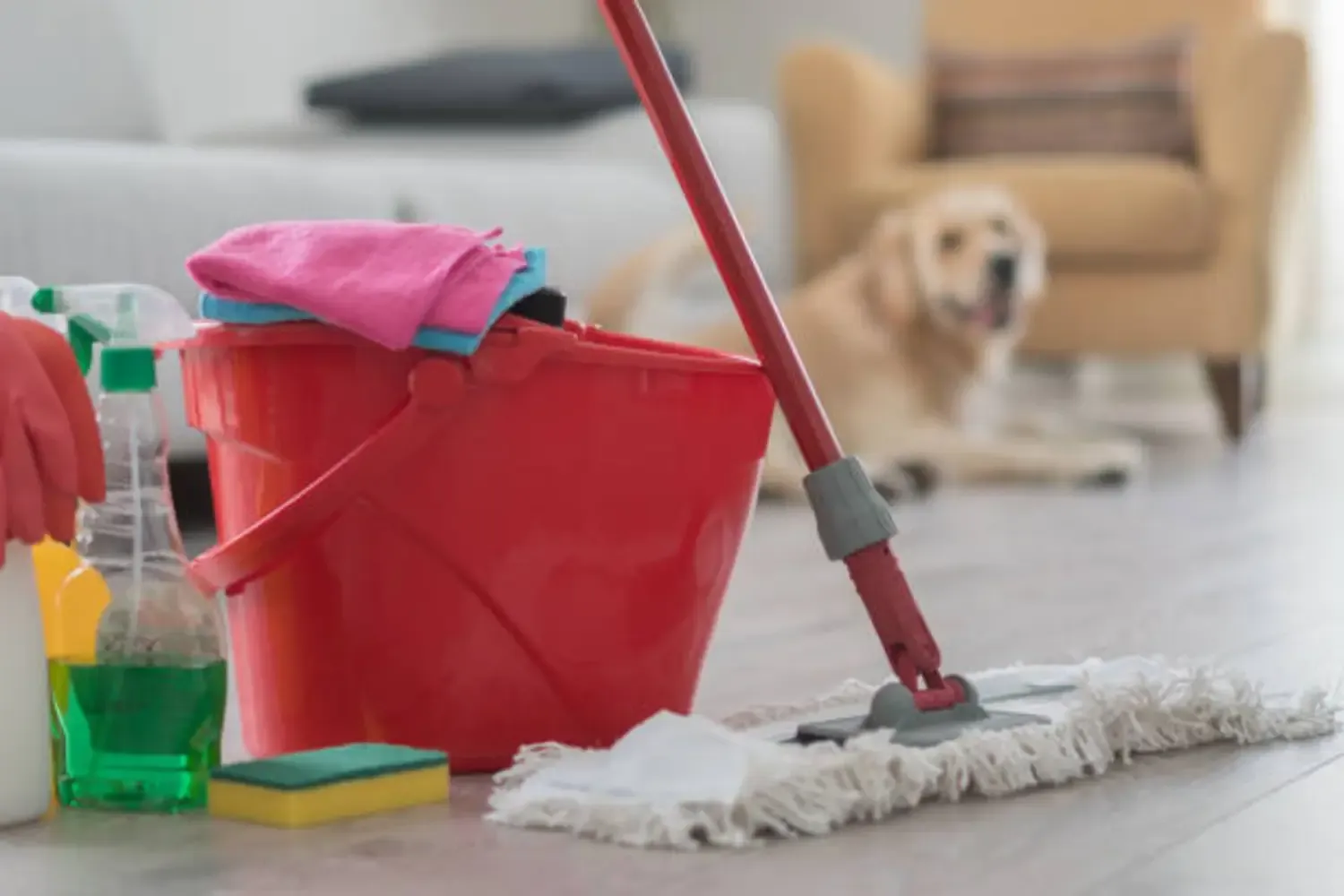 ---
KEY TAKEAWAYS

In conclusion, choosing the right mop for cleaning dog hair is crucial for pet owners who want to maintain a clean and healthy home environment. There are several factors to consider when selecting the best mop, such as the type of flooring, the level of shedding, and personal preferences.
A good quality mop with effective cleaning pads, a comfortable handle, and an adjustable height feature can make the task of cleaning dog hair much easier and more efficient.
Additionally, regular grooming and brushing of your dog can also help minimize shedding and reduce the amount of hair left on the floors. By using a mop designed for dog hair and implementing a consistent cleaning routine, pet owners can keep their homes clean and smelling fresh.
ChucksChoice and recommendation for the TOP mop for dog hair is: JOYMOOP Mop and Bucket with Wringer Set
No matter which of the recommended products you choose, you'll find one to meet your needs.
And that's it! Now you can feel more confident as you shop and make a purchase decision today! It gives us great satisfaction to simplify the shopping experience and make it more enjoyable for you! Thank you for visiting our site!