The "Must-Have" Bottles for Breastfed Babies - These Are The Best!
Are you breastfeeding? Finding the right baby bottle for the times that you can't, is so important to help your little one make a smooth transition.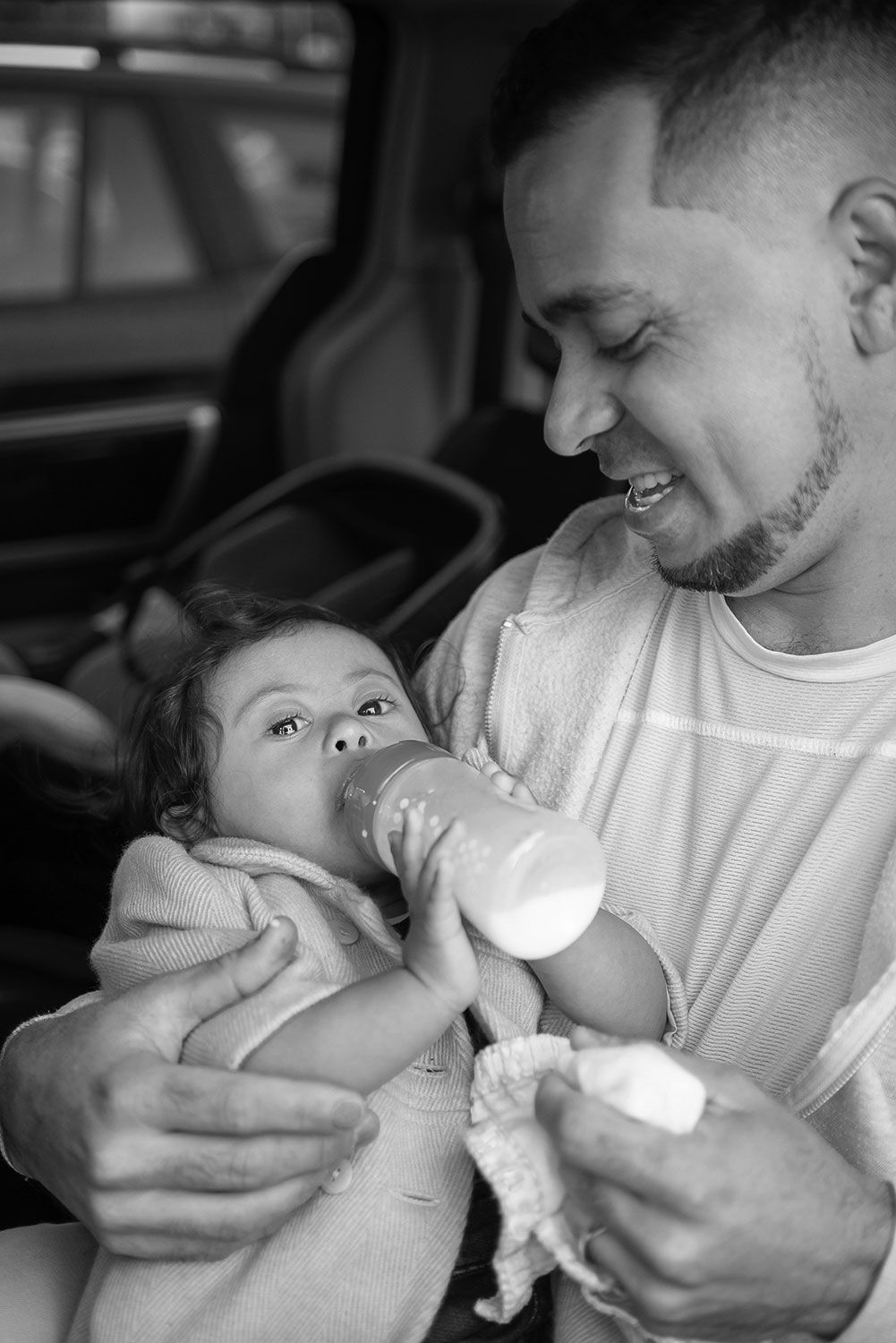 There you are, asking yourself; silicon, glass, or plastic? Wide neck or wide base? Slow flow nipple or medium flow nipple?
Choosing the right bottle for your baby used to be complicated, but not any more!
To make this a little easier for you, we've done all the research and testing so you don't have to.
You are going to discover the 5 best bottles for breastfed babies. Today will be the easiest shopping you've ever done.

And here are a couple easy buttons for you (pun intended).
---
To make it possible for us to do what WE LOVE, so you can easily get the items that YOU LOVE, we may get a small commission if you click one of the affiliate links on our site, and it won't cost you an extra penny! We help you and you help us, can I get a heck yeah?!?!
Psst! Click here to read a special message from the Authors
We love simplifying your shopping experience! In fact, it's so much fun for us (and satisfying) that we can't stop! We love providing you with the best product options to make your choice an easy one! What can we say… we love doing research! Go ahead, call us nerds, geeks, Trekkies (ooh, Trekkie has a nice ring to it) but we're doing our passion - and that's good news for you! So we won't waste your time (or money for that matter) giving you gobs of needless info or lists and lists of products. Nope! we'll keep it to the most helpful information and simplify it to the top 3-5 best options. After all, we have to stay true to our name… this is ChucksBest - Shopping Made Easy.
Welcoming a sweet newborn to the family is a special experience. Each new moment is precious and the most important thing is having the chance to truly bond with your little one.
If you've chosen to breastfeed, the last thing you want is your baby to struggle getting the best nutrients that they need. And let's face it, sometimes direct nipple feeding isn't an option, OR maybe you've chosen to bottle feed your breastmilk. Whatever the case, it's easy to become overwhelmed by the sheer number of baby bottles out there and wondering which one is best for your breastfed baby? But you are not alone here!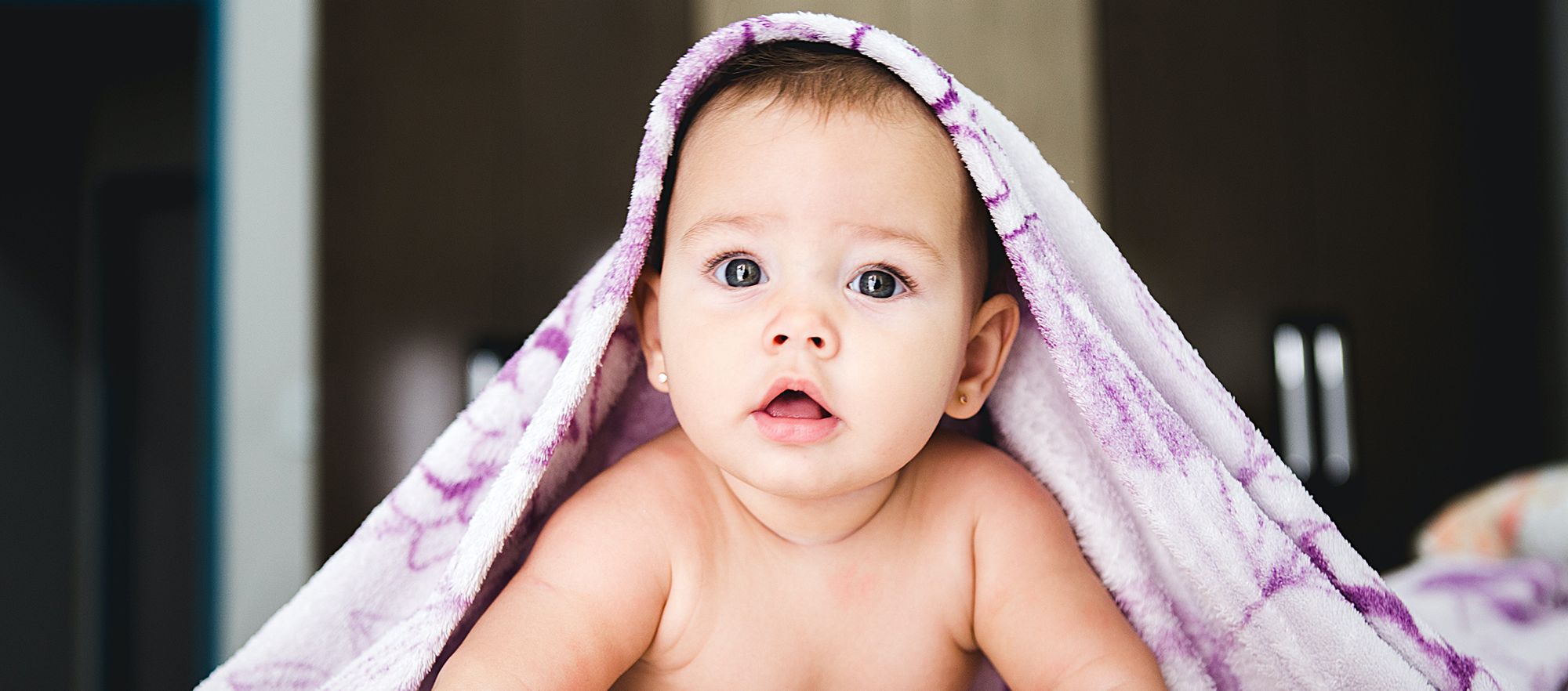 Breastfeeding is a natural process and millions of moms choose breastmilk over formula for it's nutritional benefits, and because it can strengthen the ties between you and your baby.
Many new and seasoned parents alike, find it challenging to choose the right baby bottle, mostly because of how important it is to find the right one that feels natural and comfortable. At the same time, one that is designed to reduce or eliminate air intake, to help your baby avoid swallowing air and the potential tummy upset it can cause.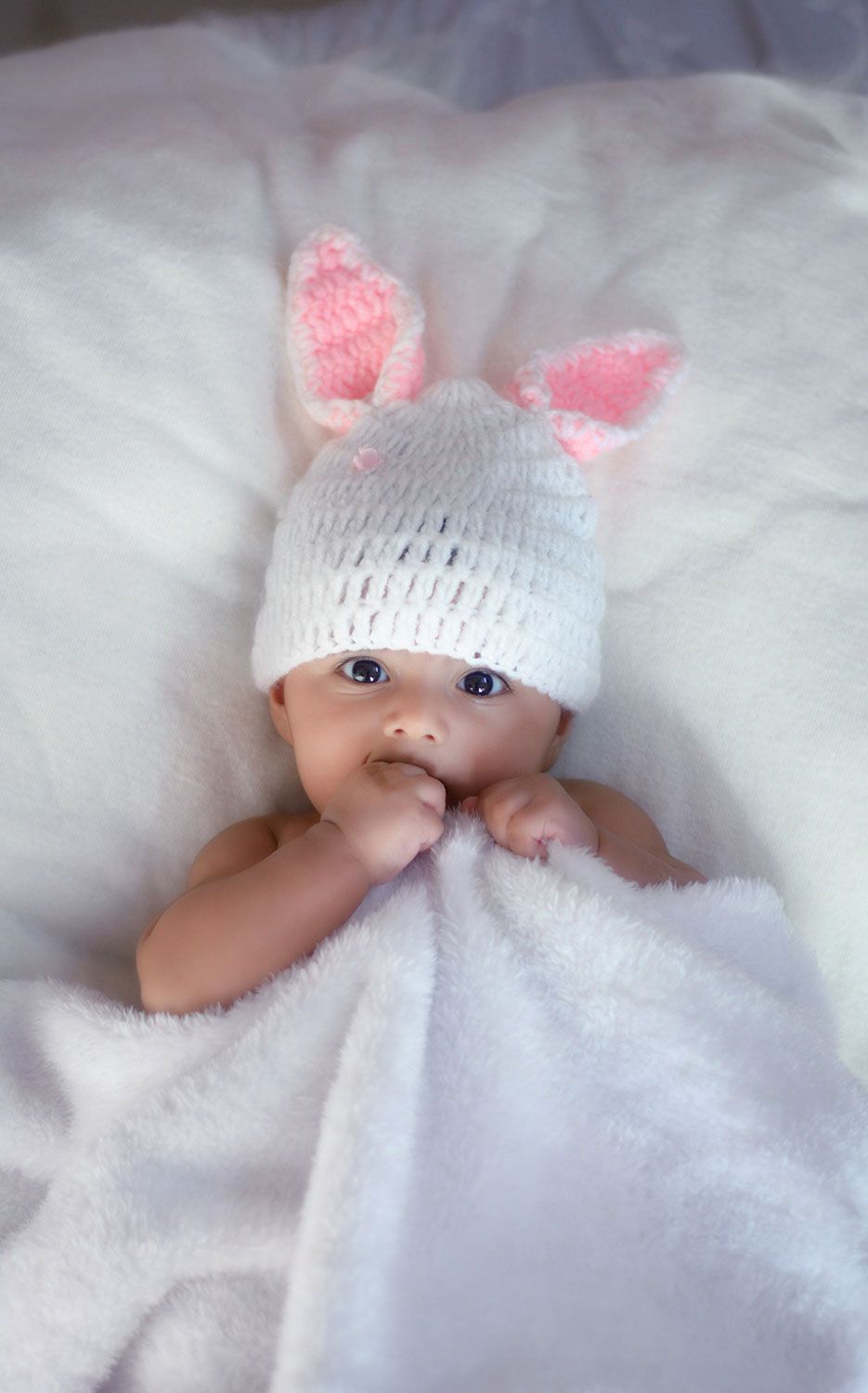 In this blog post, we've put together the top 5 best bottles for breastfed babies available on the market today.
We reviewed dozens of products, comparing the best brands and vetting each one to find the best of the best.
Our team has also read through hundreds of reviews and performed hours of research to put together this list of the top baby bottles, so your little one can have a happier and healthier life!
Not only are these some of our favorites that we've tested and loved using with our own newborns, but they are also the go to choice for many moms around the world.
Keep reading to get our top recommendation for the best bottle for breastfed babies. And, be sure to check out our buyers guide! We are optimistic that at the end of this article, you'll be able to make an informed decision that works best for you and your newborn!
---
Product Recommendations
💡
You Are About To Discover ChucksChoice For The Best Baby Bottles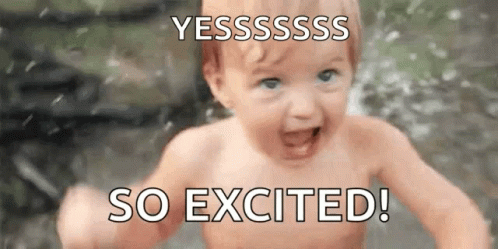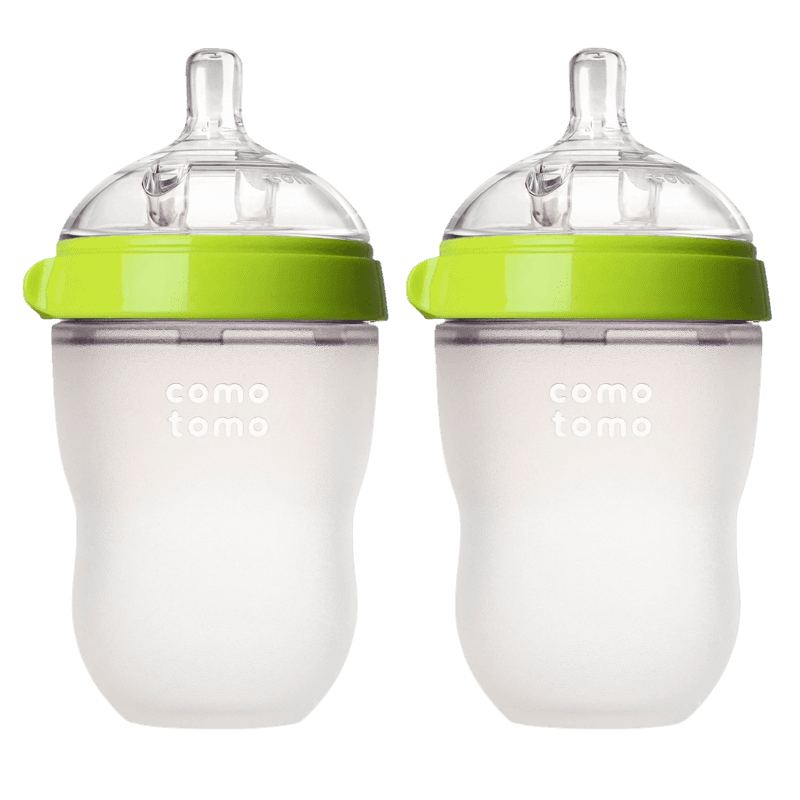 ChucksChoice - Best Overall
CHECK AMAZON PRICE
The Comotomo Baby Bottle is the perfect choice for parents who want to give their little ones the best feeding experience. Its wide neck and base design allow for easy filling and cleaning. Its soft and squishy silicone body mimics the feel of mum's skin and encourages natural latch-on.
With its dual anti-colic vents, this bottle helps prevent painful gas and discomfort commonly experienced with regular bottles. Parents also love that it's suitable for both breastfeeding and formula feeding. These bottles are 100% free of BPA, PVC, and other nasty toxins often found in plastic baby products.
All these features make these bottles parents' favorite and give them extra peace of mind while ensuring their babies get a nutritious meal!
What We Like
Comotomo bottles are made of soft silicone and give the feel/experience of breastfeeding.
These bottles are equally suitable for newborns or older babies.
Come equipped with dual anti-colic vents.
What You Should Know
These bottles are easy to clean due to their wide neck and base.
These bottles are good for vacations.
---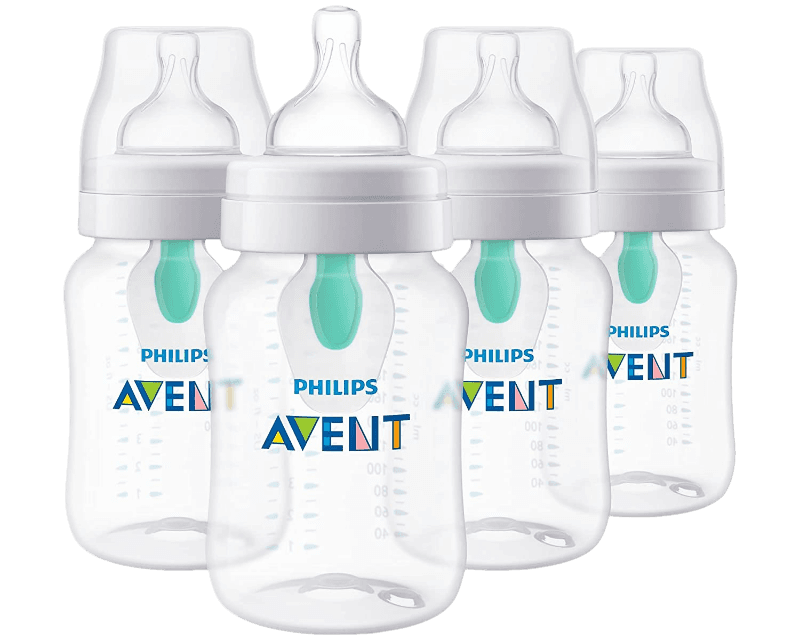 CHECK AMAZON PRICE
The Philips AVENT Anti-Colic Baby Bottles are uniquely designed to help reduce infant colic symptoms, which many mothers struggle with. The unique AirFree vent design allows air to pass through a valve built into the nipple, so no air enters your baby's tummy.
These BPA-free bottles are also clinically proven that significantly reduce fussing at night compared to other leading brands. It is perfect for travelling or on-the-go feeding. This four-pack of anti-colic baby bottles from Philips AVENT will ensure your little one gets a comfortable feeding experience.
What We Like
Its slow-flow, flexible, soft, and naturally shaped nipples make these bottles a lactation consultants' favorite.
These bottles are also available in glass, and their anti-colic features make them perfect for infants.
What You Should Know
These bottles have a broad base and come in fewer parts, making them easy to wash out.
Moms love the flow control of these bottles as it makes it easier for their babies to feed through and won't gulp the milk in large quantities.
These bottles are available in multiple sizes and materials and are affordable.
---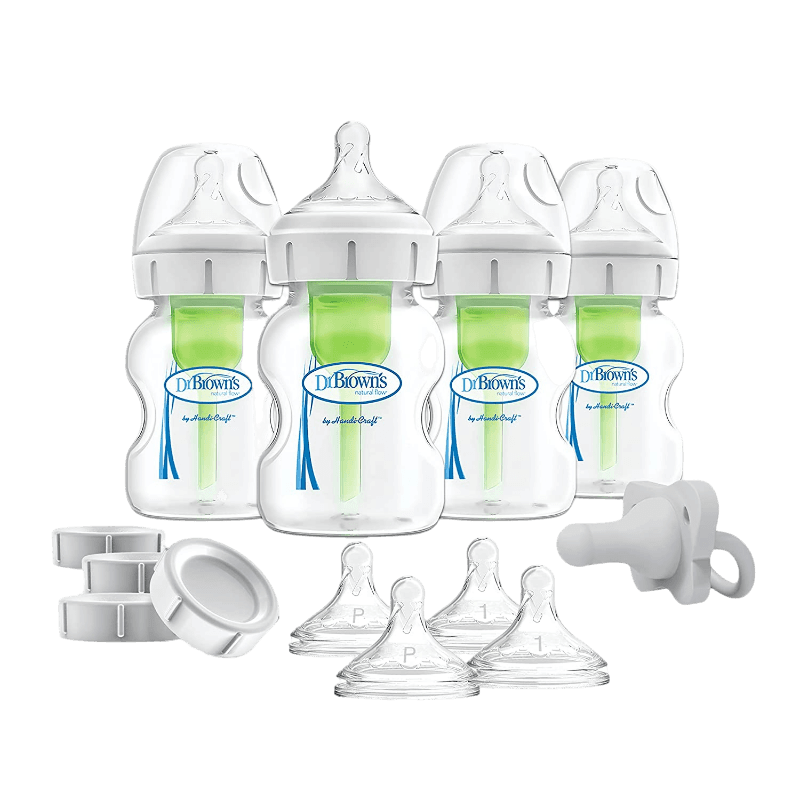 CHECK AMAZON PRICE
Whether you're a new or experienced parent, Dr. Brown's Natural Flow® Anti-Colic bottle is the perfect way to feed your bundle of joy.
It features slow-flow nipples with an anti-colic vent system that helps to eliminate air bubbles and reduce spit-up and burping during feedings. Moreover, it is designed to replicate the flow of traditional breastfeeding.
The 100% silicone components make for an easy, quick clean, and the travel caps help keep them securely stored when your little one is on the go. So this bottle makes your mom's life easier, and you can rest assured that your baby has all the advantages of balanced nutrition without sacrificing convenience!
What We Like
Dr. Brown's natural flow is made of a unique design and can preserve milk nutrients.
Its anti-colic features make it the best bottle for babies that prevent air bubbles.
100% free of BPA.
Easy to wash.
What You Should Know
These brown's bottles have two nipple levels included - Preemie Flow (Slowest Flow) and Level 1 (Slow Flow).
You can remove the anti-colic vent system of this bottle if you do not want to use it.
Many parents find it takes longer to clean this bottle because it has many parts, but it is worth the effort.
---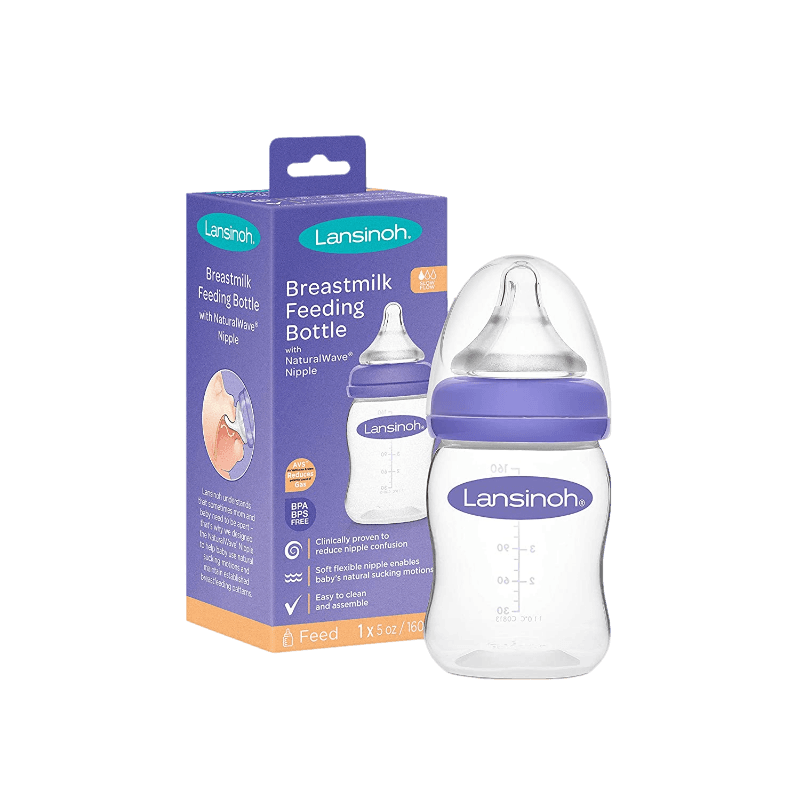 Lansinoh Momma Breastmilk
CHECK AMAZON PRICE
If you want to experience a product that is designed with your baby's exclusive needs in mind, the Lansinoh Momma Breastmilk Feeding Bottle with NaturalWave Slow Flow Nipple is ideal. Lansinoh introduced this bottle after 50 years of research.
This five-ounce bottle and its silicone nipple are designed to mimic natural breastfeeding while also providing a more comfortable latch. The Anti-Colic valve prevents air bubbles from getting into your baby's stomach, and the inner vertical groove on the nipple prevents collapse. It makes this product a necessity for any well-prepared parent looking to take the best care of their infant.
With its textured grips that are easy for small hands to hold and a wide opening for easy cleaning, this feeding bottle presents the perfect combination of comfort and convenience.
What We Like
The Lansinoh bottle's nipple mimics the natural breastfeeding process.
Its anti-colic features prevent air bubbles from forming and entering the baby's tummy.
Lansinoh bottle's nipple effectively resists collapse and gives a natural feel to babies.
What You Should Know
Many lactation consultants recommend this breastfed bottle as an excellent choice for babies.
You can replace the slow-flow nipples with the fast flow according to your baby's preferences.
---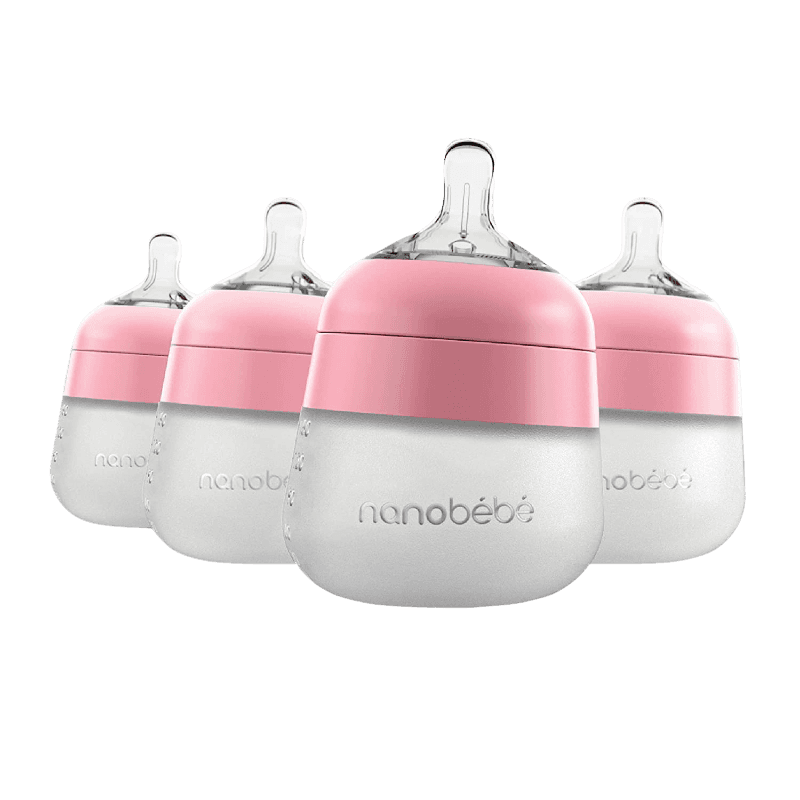 CHECK AMAZON PRICE
The Nanobébé Flexy Silicone Baby Bottle is revolutionizing infant feeding time. It features an anti-colic vent system that allows air to flow through the bottle to prevent excessive air intake and reduce colic, gas, and reflux.
The natural feel nipple was designed to replicate the sensation of the breast, providing extra comfort for your little one, while its broad base ensures that it won't tip over easily. For busy parents on the go, these bottles are also hassle-free, as they can be boiled or sterilized in just two minutes and are quick and easy to clean after use.
This 3-pack of pink silicone baby bottles from Nanobébé provides you with everything you need for a safe and comfortable feeding experience for your baby.
What We Like
These short, wide, rounded-shaped bottles can cool and heat milk quickly while preserving the nutrients.
Its non-elementary warming bowl helps to warm the breast milk gently.
These bottles help to prevent air bubbles and reflux.
What You Should Know
They are easy to clean.
Many Mums find their babies are comfortable with these bottles and can easily transfer between breastfeeding and bottle.
These bottles are dishwasher and microwave-safe and BPA, PVC free.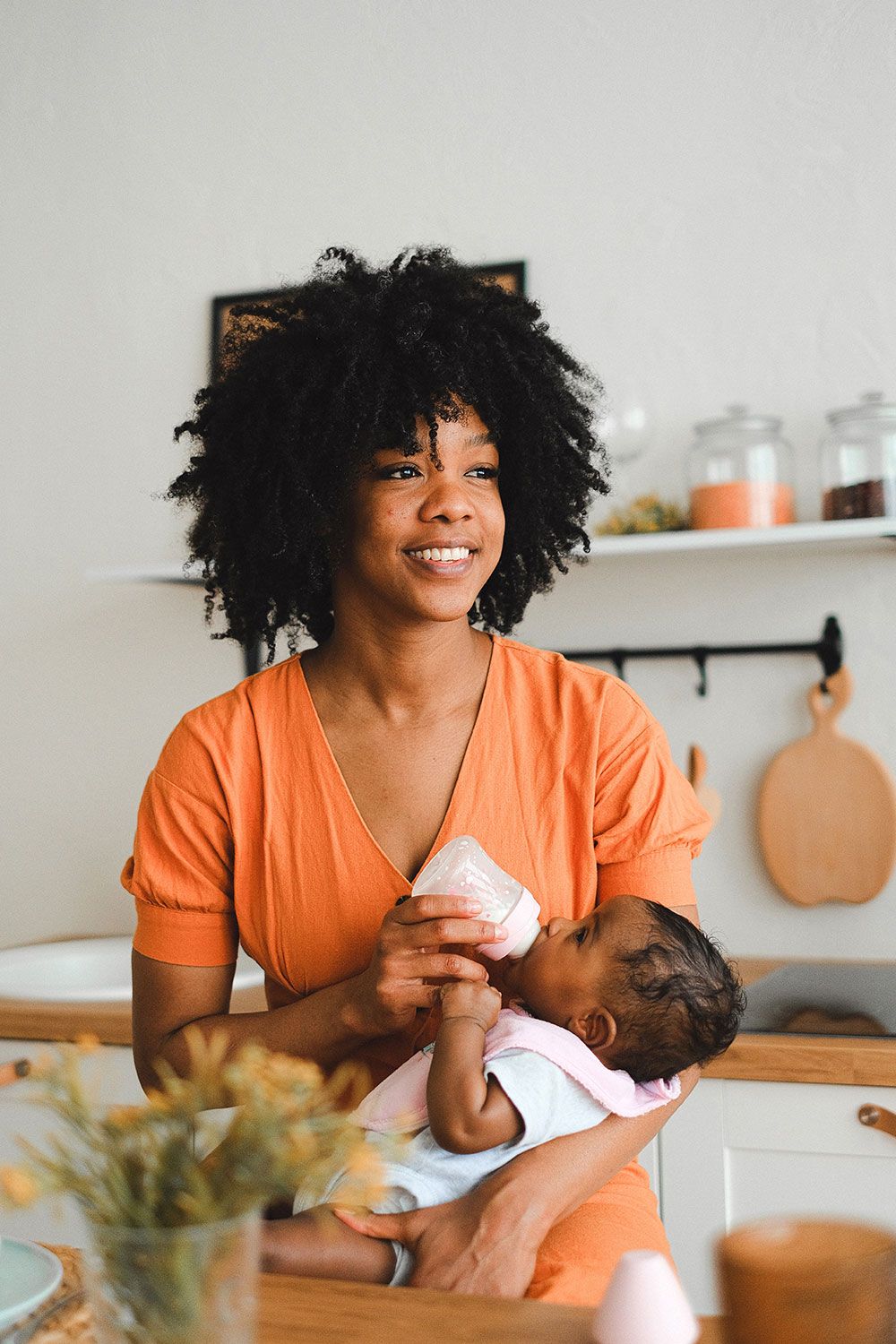 ---
We'll Help You Make An Educated Purchase Decision Today!
When to Start a Bottle for a Breastfed Baby?
When deciding when to introduce a bottle to your baby, who is exclusively breastfed, there is no one-size-fits-all answer.
However, introducing a bottle to your baby between three and six weeks is advisable because, at this period, they have a natural urge to suck on everything you give them. (Allyson Murphy of Laid Back Lactation)
The motor functions of squeezing from breasts versus bottles are pretty different. Murphy compares the situation with bilingualism.
Introducing the bottle within the three- to six-week time frame gives babies the best chance at mastering both, and if breastfeeding goes well, it will be an ideal time.
You are also recommended to breastfeed your infant for the first six weeks to ensure proper nutrition and establish a strong bond between mother and child. At this point, when breastfeeding is going well, parents can introduce bottles to their babies.
It's important that babies learn how to breastfeed appropriately before being offered a bottle since some infants may struggle with switching back and forth between bottle and breast.
One key factor in deciding when to start a bottle is whether the mom will be absent from feedings at any point; if so, giving the baby practice with both will make the transition smoother. Ultimately, you, as a mom, need to decide what works best for your situation.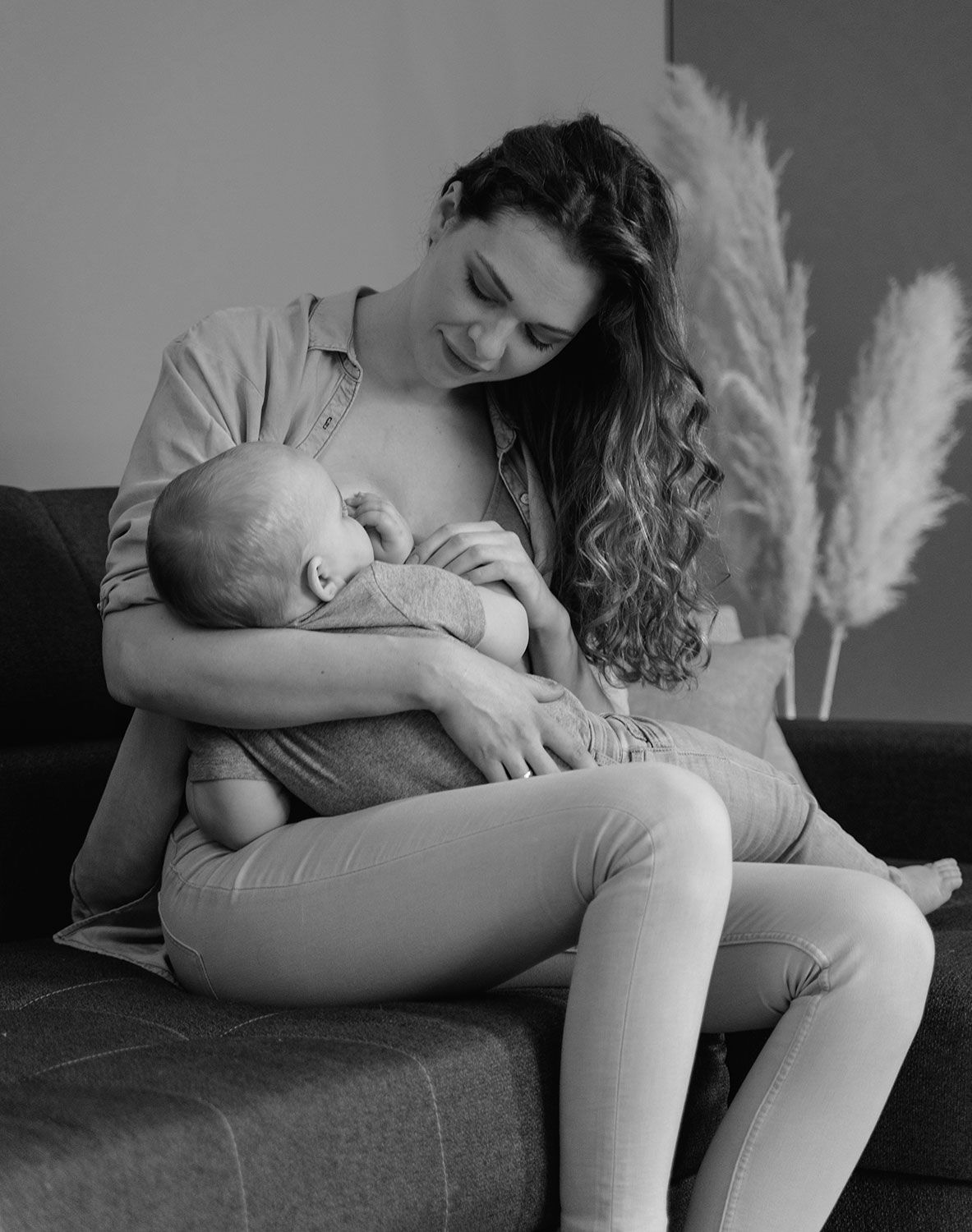 How to Introduce a Bottle to a Breastfed Baby?
Transitioning from breastfeeding to bottle feeding is a significant developmental milestone that necessitates extra care and attention.
Introducing a bottle to a baby who is breastfed can be an anxious time for both parent and child. It is about timing, techniques, and, most importantly, patience. Keep in mind that it may take some babies longer than others to become comfortable taking a bottle.
Always start slowly and patiently building up the baby's routine with the bottle. Also, ensure that the baby's position is slightly upright while the bottle is parallel to the floor, so milk comes to them easily. It will enable the baby to get the milk the way they would naturally get it from the breast.
Breastfed babies tend to pause, so make sure that while feeding through bottles, you also pace the process. It will help babies to take their time to get used to bottles.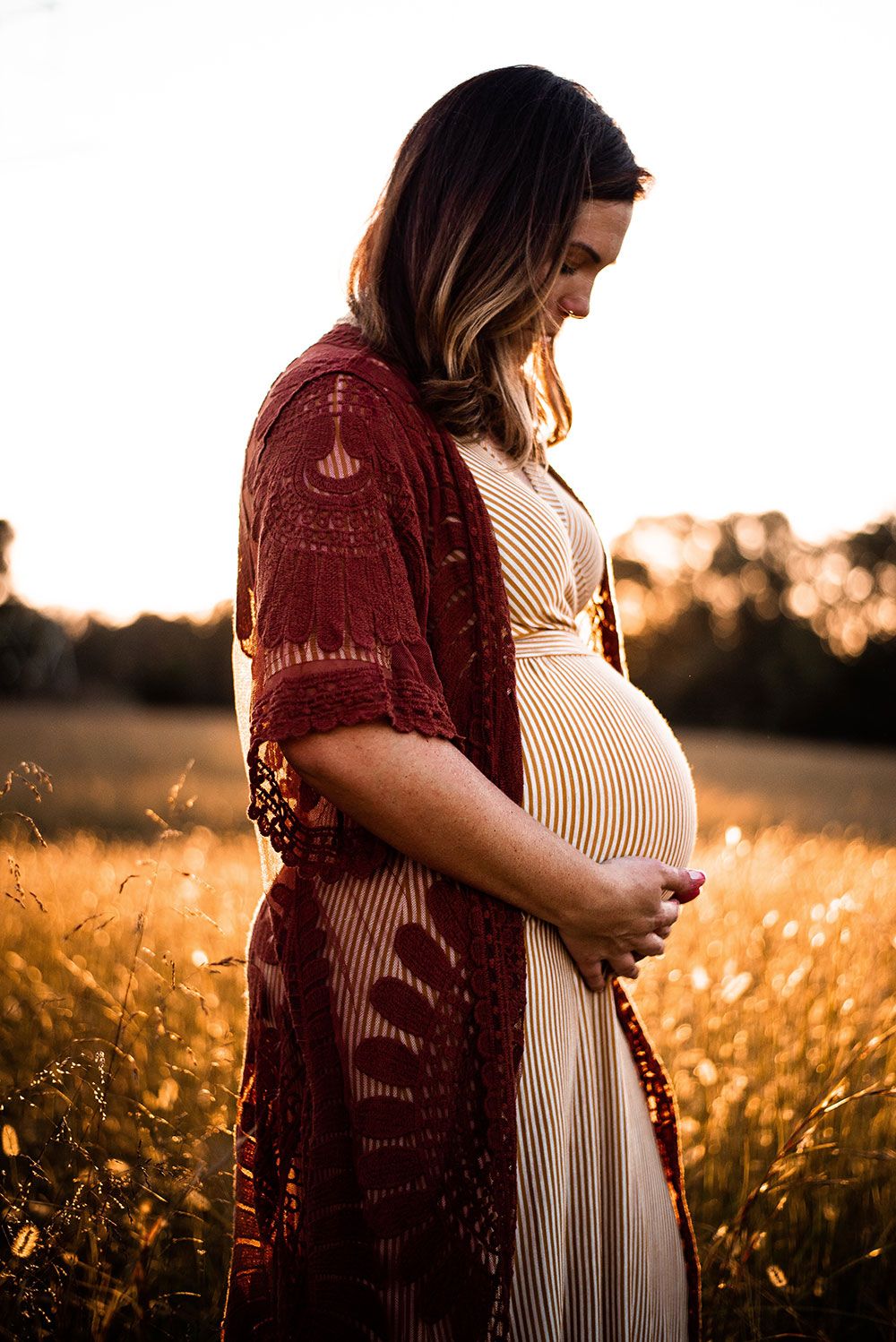 However, the best way to introduce your baby to the bottle is to begin the process early and slowly and introduce the bottle only after breastfeeding has been well-established.
Don't be worried if the baby initially refuses to feed through the bottle; the key to success here is to try again and again. Also, be consistent with the process once you introduce the bottle to the baby.
What's the Best Type of Bottle for Breastfed Babies?
Choosing the right bottle for your breastfed baby is not a decision to be taken lightly. It involves researching size, materials, and special features to meet your baby's needs.
After all, bottle feeding should mimic breastfeeding as much as possible to minimize nipple confusion and ensure the shape does not cause sores inside the baby's mouth.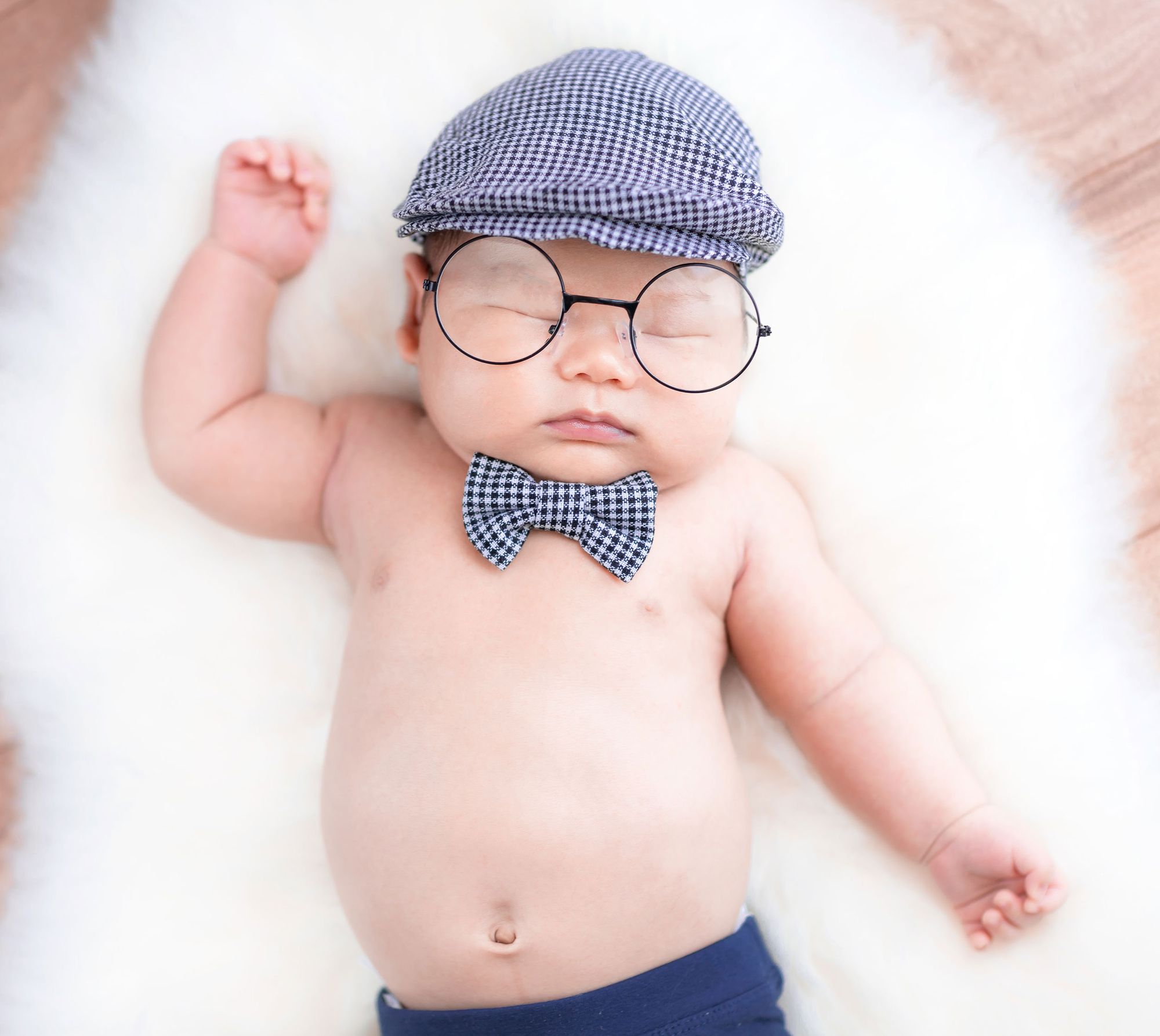 A couple of lactose consultants advise finding bottles that have small nipples with a gradual slope, meaning the top nipples are thin and gradually incline towards the bottom. This helps the infant's mouth open more widely and aids in the ability to latch.
Bottles that allow the parent or caregiver to control the milk flow by adjusting the vent openings are generally recommended for babies who have recently started using a bottle.
Soft silicone nipples also encourage a more like-breastfeeding experience, as it mimics the feel and movement of breastfeeding from the mother. Finally, consider selecting bottles made from BPA-free materials and opt for dishwasher-safe for easy cleaning and sterilizing.
In the end, every baby has their own preference for feeding from a bottle, so it's essential to find what works best for you and your little one.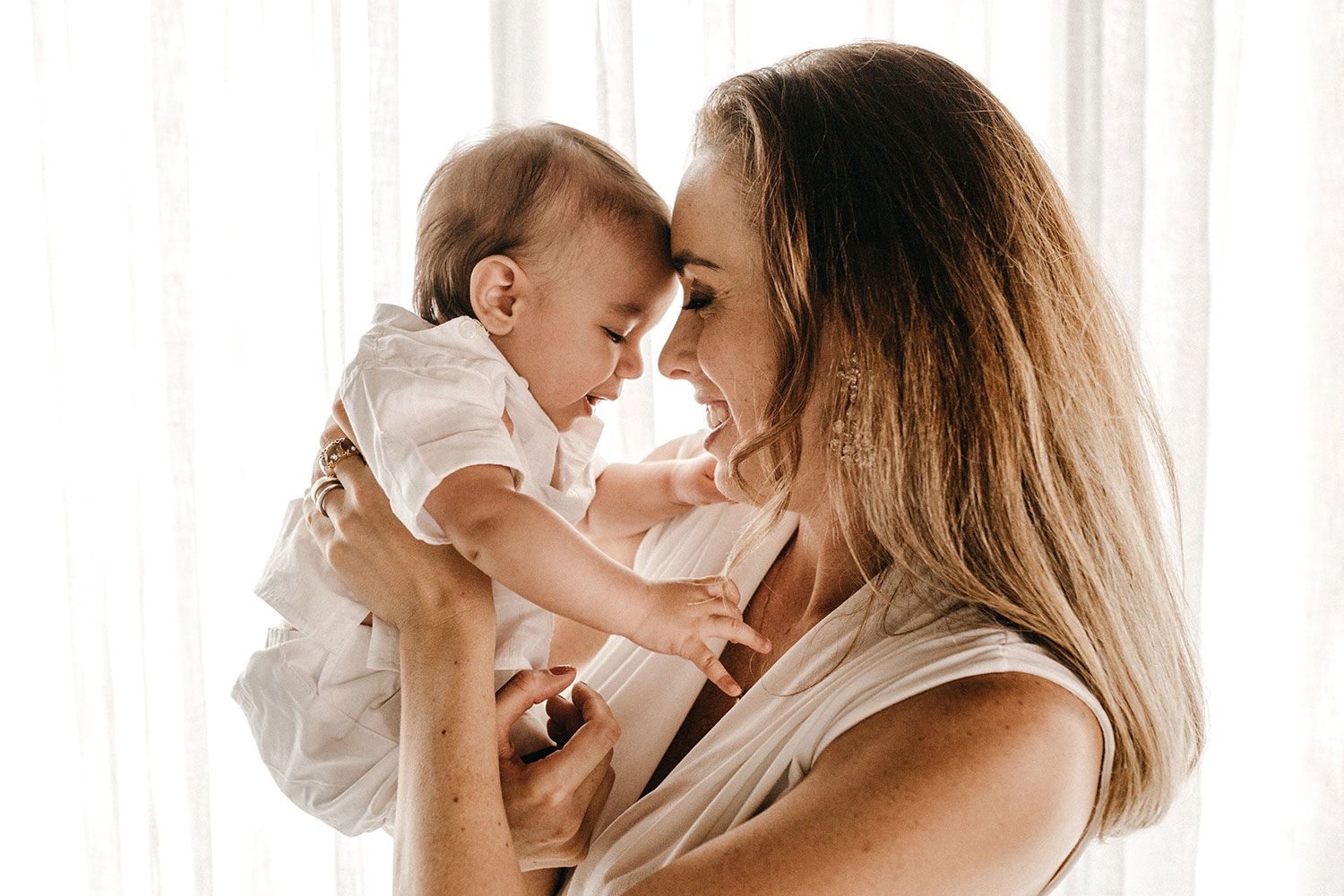 ---
FREQUENTLY ASKED QUESTIONS
The Best Answers For The Right Questions
Q. What size bottles are best for newborns?
A. When it comes to bottle size for newborns, I generally recommend going with 4-ounce bottles. These are the perfect size for a newborn's tiny tummy and will help ensure that your baby doesn't take in too much milk at one time. Plus, they're small enough to fit in most diaper bags so you can easily take them on the go.
Q. Is it OK to switch between breast and bottle?
A. Absolutely! It's totally fine to switch between breast and bottle feeding. In fact, it can be beneficial for both mom and baby. For mom, it can provide a break from the demands of breastfeeding, while still allowing her to provide milk for her baby. For baby, it can help them learn how to take a bottle, which is helpful if you ever need someone else to feed your little one.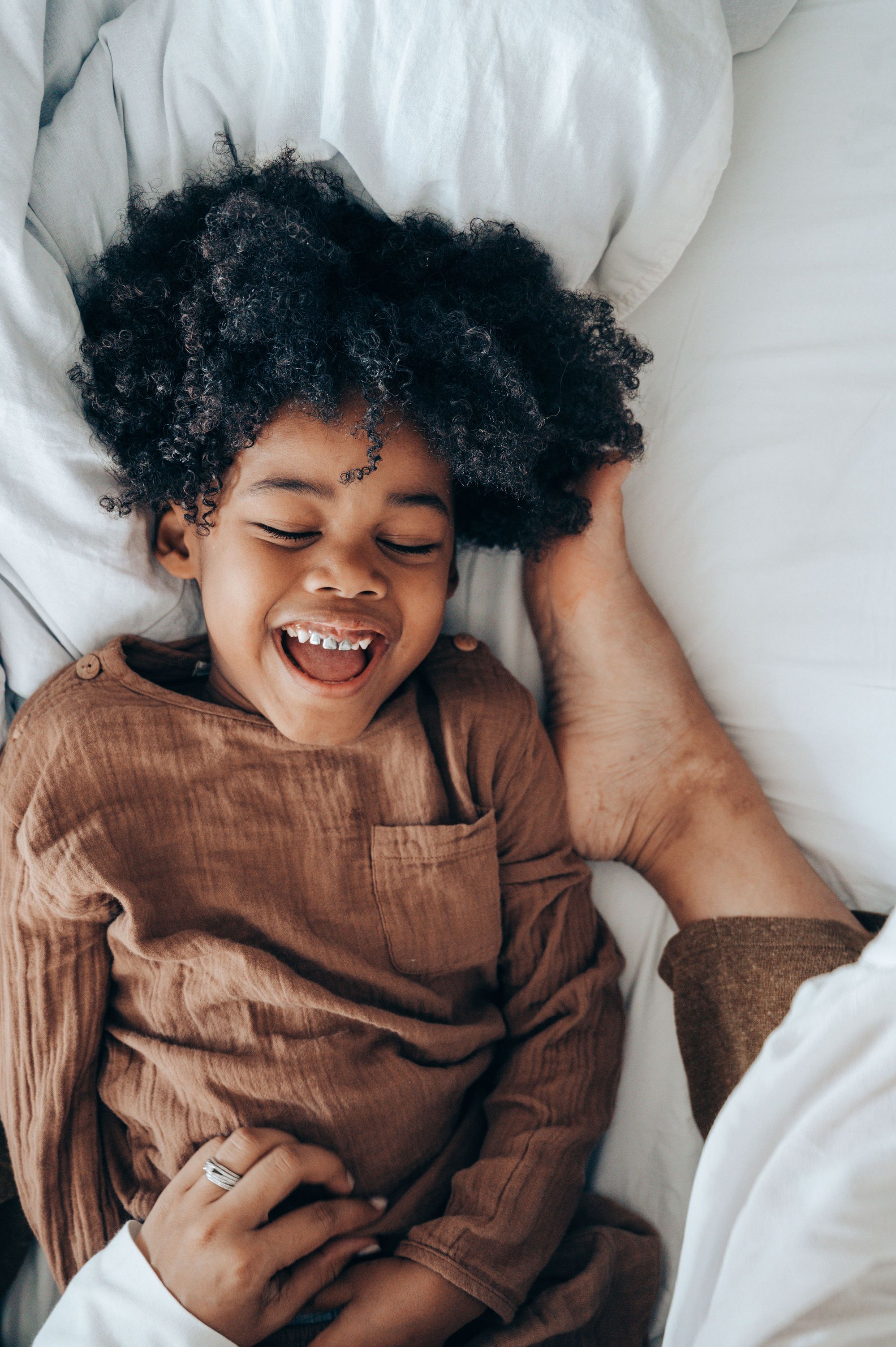 Q. How often should baby bottles be replaced?
A. Generally speaking, you should replace your baby's bottles every three to six months. This is because plastic can start to degrade over time and harbor bacteria, which can be harmful for your little one. Bottle nipples need to be inspected more often for cracks, clogs, and holes.
However glass bottles may not need to be replaced as often because they are built more durable and there is less chance of them cracking.
Q. How do I choose a baby bottle?
A. First, decide what type of material you want the bottle to be made from. Plastic bottles are lightweight and affordable, but some parents prefer glass bottle for it's durability. You may also want to consider BPA-free plastic or silicone options.
Next, think about the size and shape you want. Most bottles come in two sizes - 4oz and 8oz - but you may want to buy a few different sizes depending on; if you plan to travel for example. It's also a good idea to look for bottles with wide necks that are easy to fill and clean.
Finally, make sure the bottle nipple has a slow flow that is suitable for your baby's age and development level. This will help ensure they don't get too much milk too quickly, which can cause them to choke or spit up.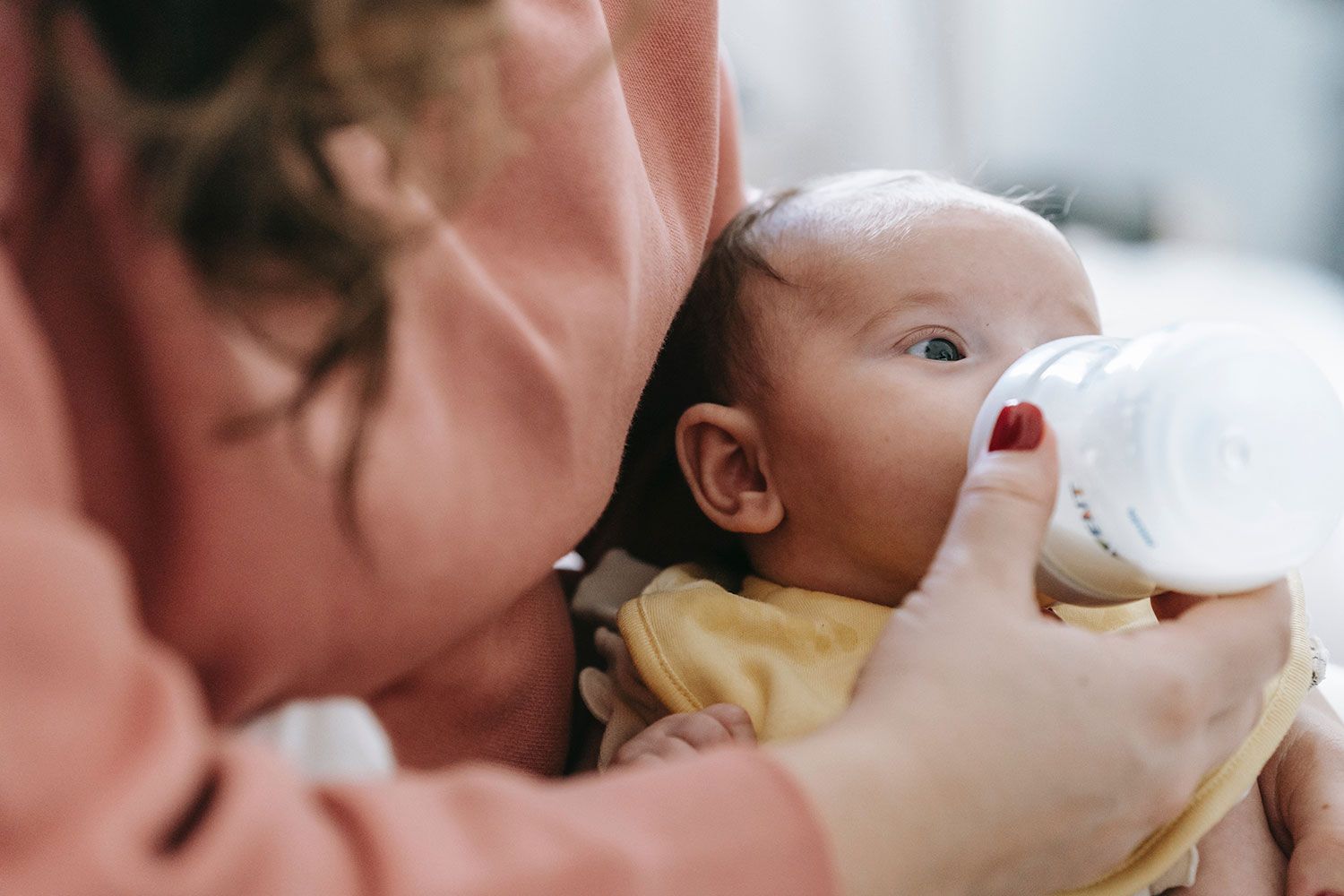 ---
In conclusion
The best bottles to use for a breastfed baby are ones that balance the need for convenience and nutrition. Many bottle brands offer plastic or glass models with broader necks, making filling and cleaning easier.
Certain bottles also feature adjustable flow nipples and anti-colic designs that help prevent air ingestion. These features help make bottle feeding more manageable and healthier for any breastfed baby.
Above, we have shared a list of the 5 best bottles for breastfed babies. Each bottle is unique in shape, design and features that may help with any additional needs your little one may have in day-to-day life.
Based on our own experience and hundreds of Amazon reviews, the best bottle for breastfed babies among these is Comotomo Baby Bottle. From soft silicone making to PBA-free to Wide base and Colic proof vent, these bottles are ChuckChoic and all-time Mum's favorite. So grab your hands on them and make your baby bottles experience hustle free.
Despite what option you choose when selecting a baby bottle for your breastfed babies, make sure it fits their needs and allows them to relax in whatever way they feel comfortable.
In the end, keep experimenting until you find the perfect fit for your little one, as it will all be worth it when you hold a happy and nourished baby in your arms!